July 20, 2012
By: The Elephant Sanctuary
July 20, 2012
Caregiver Angela wanted to recognize some very special members of The Elephant Sanctuary staff,
and the rest of the Caregivers were quick to chime in.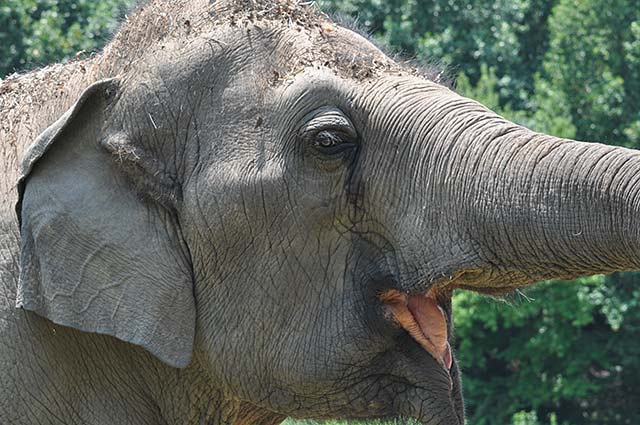 "We, as Caregivers, always love to share stories of our Girls with others. This is how people come to know and care about what we do here. There are so many things that go into truly taking care of another creature, and being a part of their lives with an inside window makes us very lucky. Most people who follow the Sanctuary know the Caregivers well, if not by name, then by duties. There are, however, a few "unsung" heroes who are here right alongside us every single day, making sure our wishes for the elephants are carried out in the best way possible – our Facilities and Maintenance crew."

"The skills and abilities they possess constantly amaze us, and with as much work as there is to be done, they take care of multiple tasks with pretty amazing efficiency. It's hard to wrap my head around all of the things that fall under their responsibility," said Caregiver Angela. "They are integral to the function of The Sanctuary; they can come up with a plan and achieve the directive with impressive speed…they always know what to do and in which order to prioritize." Many other Caregivers added their appreciative thoughts. They had countless tales of all the wonderful things the Facilities staff does, every day, to help care for the Girls. A special thanks to Joe, The Sanctuary's Director of Facilities Development, and his hardworking crew - Wade, Daniel, Kyle, and Jay.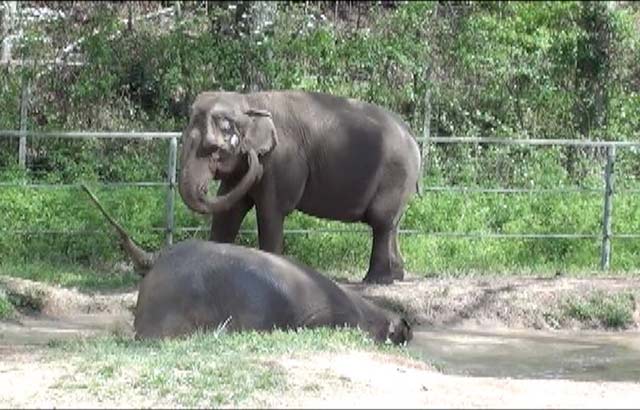 At Phase 1, The Caregivers had noticed the edge of the pond was in need of a little leveling out, to make it easier for Girls who have some difficulty in locomotion to enter (like Frieda with her poor feet). Caregiver Kelly said, "A few weeks ago Daniel leveled out the entrance to Liz, Frieda and Billie's pond... Just a week after Daniel leveled it out, we saw Frieda and Billie right in the middle of the pond, splashing and kicking away! It was such a wonderful sight to see these Girls in their own little world just having a blast! But Daniel not only leveled the pond entrance, he also thoughtfully used the excess dirt and made a huge mound which can be used for dusting or even leaning on for a nice short nap. We haven't seen anyone napping against it, but Frieda was dusting her little heart out the first day it appeared!"

Having learned through experience what works and what doesn't, many of the design repairs and modifications to fencing, gates, and gate motors originate from our Facilities crew. You'd be amazed at how destructive elephant engineering can be! Whenever the Facilities crew is working to repair such items, for their safety, the Caregivers will encourage the Girls to remain in another area of the habitat. Caregiver Laurie said, "Sometimes the guys will work looong hours to reduce the number of days that the Girls need to be kept out of a spot. A few weeks ago Kyle was bush-hogging the pipeline, and when lunch time rolled around he didn't radio to let me know he was coming out, so I went and checked on him. I found him going steady, determined to get as much done as possible. I know that Sissy, Winkie and Tarra are grateful for the crew's perseverance in getting the pipeline bush-hogged, a gate installed, fence repaired, and a PC wall installed this Spring near 2nd Pipeline Crossing. Now they can enjoy that area without interruption for the rest of the season. With the PC wall the maintenance crew built at 2nd Pipeline Crossing, we are now able to carry out treatment and training sessions in the habitat, while Sissy and Winkie are able to roam past the North Gate enjoying the habitat they typically roam in the summer!"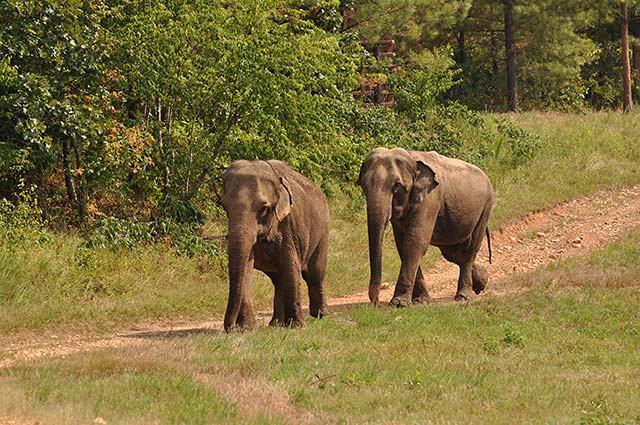 "During the winter when the ground gets muddy just outside the Girls' stalls, the guys will get a load of crush and run (dirt/rock/cement mix) to fill in the muddy holes so that the Girls don't have to step in the mud. Some of the Girls don't mind it, but others will go to great lengths to avoid it. Winkie, for instance, will try to walk on the 8 inches of cement leading from her stall patio to the North Yard instead of walking in the mud, not easy for such a big Girl. Tarra will walk waaaay around to avoid walking through mud," said Laurie, but thanks to the thoughtful Facilities crew, they don't have to.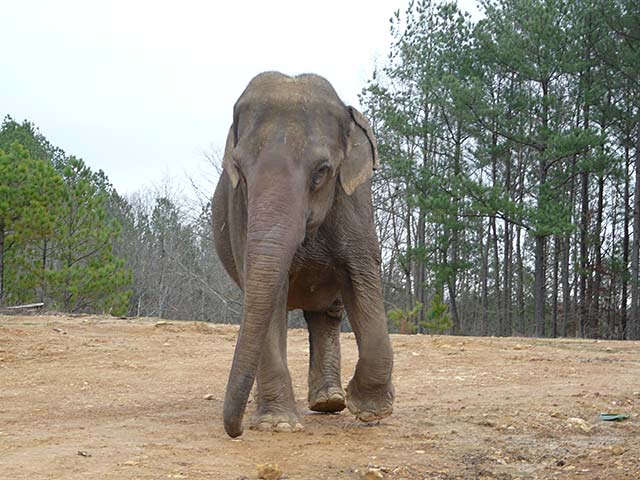 Maintaining the equipment and ATVs is an endless task, especially thanks to the bumpy terrain of the habitat. The wear and tear on the ATVs from normal daily Caregiver duties, like delivering meals, treatment, and water to Girls like Shirley out in the far reaches of the habitat is immense. But the Facilities crew is always quick to keep things running. Said Laurie, "Last Thursday evening the water trailer tire flattened while out in the habitat, and having no other choice, Clint drove it back on the rim. The next morning I mentioned it to Daniel to and see if he could take a look and if the tire and/or rim could be salvaged. By the time I got back to the barn it was already fixed! I thanked Daniel when I saw him later and he let me know Kyle had fixed it. I thanked Kyle when I saw him and he said, "I went ahead and put a new tire and rim on there, want to make sure it holds for you out there." "When there are problems or breakdowns with the 4 wheelers," added Caregiver Ashleigh, "so many times all you have to do is describe the sound or symptom of the machine, and they can just tell you what to do to fix it! And with the PC training walls, the guys are constantly making additions and modifications to them so that they work effectively for Caregivers and comfortably for the Girls."

"To care for the Girls, we need appropriate, functioning facilities, and capable, knowledgeable staff. The lists are constant, as with any operation of this nature, and items are added daily as others are checked off. The fact that we don't have to hire out all of the services our Facilities crew can handle is a tremendous asset, and we are truly lucky to have such capable people working with us, and I wanted to tip my hat to them and "introduce" them to everyone who follows our adventures. Truthfully, without them, our days would be very, very different in caring for the elephants, and we thank them for everything they do," said Caregiver Angela.