June 16, 2012
By: The Elephant Sanctuary
June 16, 2012
In Asia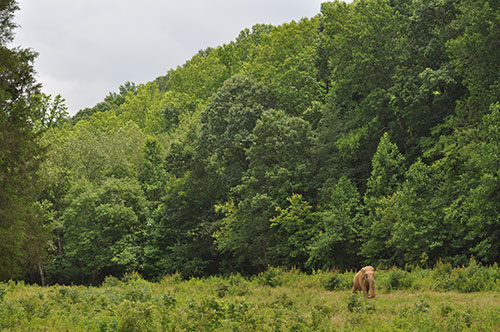 Shirley is not one to be daunted by her handicap. Caregivers have observed her walking miles a day.
Shirley and Tarra have both been exploring far and wide this summer, and Caregivers frequently find them together in the habitat when they go to deliver meals on the 4-wheeler. This week, when Caregiver Clint went out into Right Field, he found Shirley, and a mere three hours later, he located her almost a mile away, in an area which had required her to climb a hill with a rather steep grade. Shirley continues to amaze us with her tenacity and her wanderlust, which she freely embraces despite her handicap. Shirley never lets it slow her down! Shirley and Tarra have created a mud hole in the habitat near their water trough, and Shirley had a great time thoroughly covering herself in mud the other day.Tarra, not one to miss out on fun, joined her as well, and they both proceeded to get muddy and rub their bodies all over each other. A day later, the mud bath took place again right after feeding. Hopefully it will become a daily ritual, and we can catch their muddy mirth on video. Laurie said, "I wish I had had the video camera, our supporters would have enjoyed watching them as much as I did!"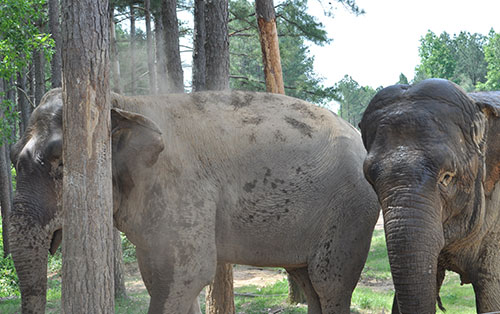 Dulary and Misty had some fun dusting and rolling around in the dirt as well.

Over at Q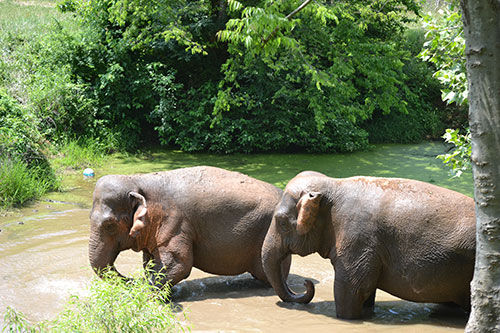 Ronnie and Debbie have been enjoying almost daily swims in the pond.
The Q Girls got a new special delivery, a fire hose "sprinkler" like the one at Africa, and don't you know who was front and center on the receiving end—you guessed it—our merry Minnie! She was already playing and bobbing in the pond, so Caregiver Kelly decided to make things even more exciting by adding a waterfall to the water sports! Minnie LOVED it! She splashed around in the steady stream and spun around, so the hose could reach her entire body. Not the least bit daunted by the high pressure spray, Minnie opened her mouth wide with gusto for a BIG refreshing drink! The best part, though, was when she came closer to the fence line and ducked her head down, shut her eyes tight, and enjoyed receiving an invigorating water massage. Kelly sprayed the hose all over her body and she stood there completely still, her eyes closed, savoring every second.

In Africa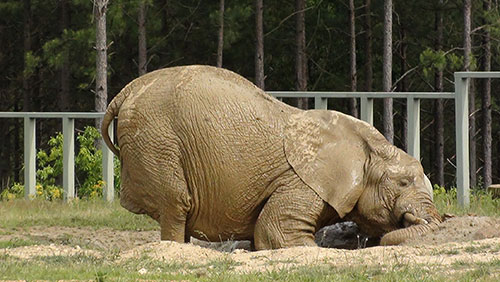 Tange rubbing with vigor in her natural mud bath.
Caregiver Angela was musing about the African Girls the other day, and explaining how their habitat keeps them both happy and healthy. "The African Girls are very hearty, and tend to keep themselves in good shape, using all of the tools of their environment. The hills, valleys, and rugged terrain of their habitat keep their feet and toe nails groomed quite nicely, thus they only require occasional trimming or filing from their Caregivers. Rain, man-made showers, and mud holes provide moisture for their skin, while rubbing on trees, fences, and each other helps to lessen any build-up of excess skin. Dusting and coating themselves with mud are some natural ways that they protect themselves from the biting insects that come with the warm Tennessee weather." It's amazing how Mother Nature seems to always know best.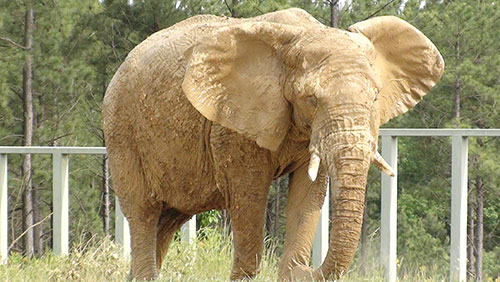 Tange covered head to toe in mud.