June 6, 2011
By: The Elephant Sanctuary
June 6, 2011
Whew, summer is here! The heat has all the girls finding shade wherever they can.

Minnie has been disappearing to the Upper Pond most days, much to the dismay of Caregivers trying to find her with the camera. As disappointed as we are that we can't show you her antics up there, we are overjoyed that she has returned to the spot that she and Lottie frequented daily last summer. The Upper Pond has lots of cool shade and places to dust after a cooling swim, so Minnie spends many hours up there.

Deb and Ron prefer the shade of the South Habitat, with its smaller, very muddy pond. Ronnie, in particular, likes to coat herself with the thick mud she can find near the pond's edge— something that helps to naturally combat the bugs that bother her so much.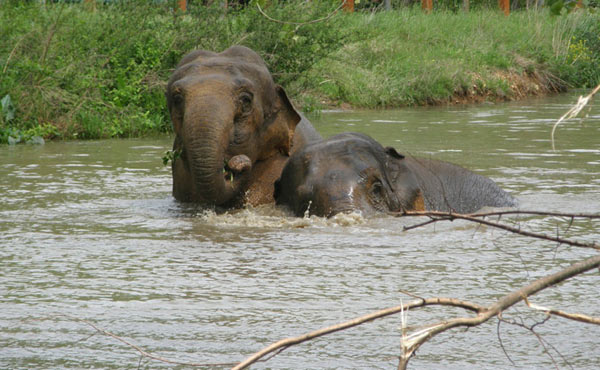 Liz, Billie, and Frieda have taken a new liking to the hill area of their habitat and have been spending entire days up there. From the way they have suddenly started spending so much time in that area, you would think they had just figured out the extra space exists.

For whatever reason, all three girls are loving it, heading up immediately after Liz's treatment is finished in the morning. When we approach them on the 4-wheeler to drop off hay, they each sound off and use their trunks to check each other. They had been in the habit of coming back down from the hill at the end of the day to eat and hang out in the barn for a few minutes, but yesterday Frieda had a better idea…

Even when Billie came down for a little while to eat, Frieda insisted she was content with staying up in the woods. Billie finished most of her diet, but was too preoccupied with her friend's absence and decided to venture back out. As the evening went on, Richard kept an ear open in case they came back down, which didn't happen until around 9:15 p.m. And even then, Frieda went right past the barn to continue grazing in the yard.

For some elephants here at the Sanctuary, this kind of activity is probably unremarkable—but for these three, it's something we really look forward to seeing. They are still somewhat insecure and attached to their barn, so when they are comfortable enough to spend an entire day and evening away, it's a special occasion.