March 1, 2012
By: The Elephant Sanctuary
March 1, 2012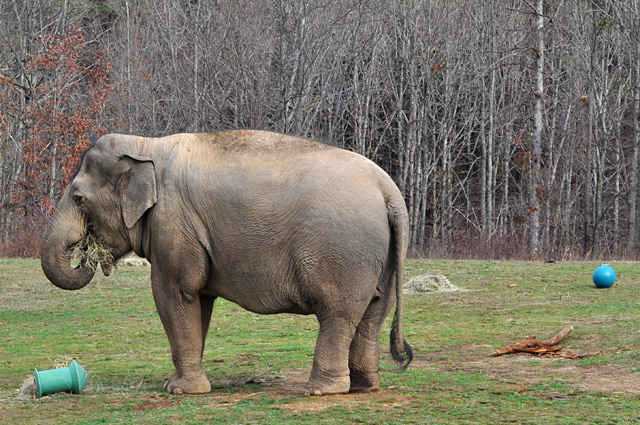 At Asia -
The Caregivers had an Ele-Enrichment day recently, and had tons of fun rummaging through the treasure trove of toys from the enrichment closet and divvying them up amongst all of the Girls. Cut up sweet potatoes, apples, jelly beans and more filled toy after toy and the Caregivers were so excited as they spread the surprises throughout Asia for the Girls to find. We thought you'd enjoy sharing this slideshow with the little elephant lover in your life!

Watch Slide Show!

Over at Q-
Dr. Susan Mikota and Vet Tech Deb had a surprise of their own last week! According to Susan, they've been waiting and waiting, knowing it was just a matter of time and then it finally happened ….Minnie came to visit the Vet Care Center.

The Vet Care Center is currently housed in a temporary trailer until we can raise enough in donations to build the new Lota Veterinary Care Center and move into a permanent facility. Susan wanted to place the trailer at Q so she and Deb could closely and easily monitor the TB treatments of our Girls. After much discussion and collaboration with Joe and the facilities crew, everyone determined that a grassy space between Phase II and Minnie's pond was the best location for the trailer. Once it was positioned into place, the front corner of the trailer, right near Susan and Deb's office window, ended up being close to Minnie's fence. They had been wondering when Minnie would come to visit … and what she would do when she did.

According to Susan, Deb heard a little thump and when she looked up there was Minnie outside their office window. "Look who's here," Deb said. "It surprised both of us! We had not heard her approach – a testament once again to just how quiet an 11,280 pound elephant can be," said Susan.

Susan elaborated, "Her visit lasted about 10 minutes. She casually munched on some grass and then knocked down a dead tree, presumably to clear her path for her next trip. Meanwhile Caregiver Kelly was in the habitat, looking all over for Minnie and not guessing that she was paying us a visit!"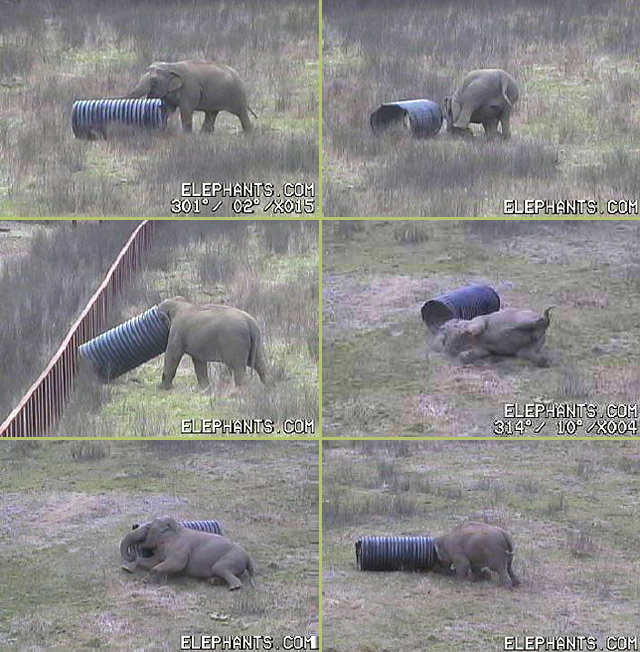 In Africa -
On a recent beautiful and crisp sunny morning in Africa, one excited Elecam viewer wrote in she was so pleased to see the African Girls catching a few rays. Flora and Tange had a special guest join them for breakfast - Kristy, one of the Caregivers who frequently works at Asia. Flora likes to create a grand vision for newcomers. She shifts her weight and pulls herself up to her tallest height, raising her massive, regal head and resting her trunk over the very tippy-top bar of the stall, deigning to peer down her trunk at the guest in HER barn. Needless to say, she creates an imposing image with all of her confidence and her huge frame.

Flora and Tange reached their trunks out of the stalls in a greeting to Africa Caregivers Angela and Maddie, happy to see them and perhaps also looking for a tidbit of food. The Caregivers reciprocated the welcome with outstretched hands, and the Girls inhaled their scent and puffed their greetings of welcome. Angela and Maddie playfully tapped their trunks in return with their finger and gave them a quick pat. "Good morning, Tange." "Flora, steady please." When Kristy had lifted her hand out in greeting to Flora for the first time, she sniffed it curiously and with interest, then rapped her palm with her trunk and a quick but gentle slap. Kristy laughed, "It was if she was saying, 'I've got my eye on you. You better keep in line.' " Since then, she has built trust with Flora and was so pleased to have been able to touch her ear during a recent PC training session. Kristy is being cross-trained to help feed the Girls in Africa, learning all of the intricacies of caring for two very different Girls.

At breakfast time, Flora is fed at the northeast side of the barn near the woods, while Tange is fed out of her sight on the other. Flora prefers her grain and fruit to be placed on top of her hay, so that it doesn't touch the ground. Tange, on the other hand, wants her "entree" and her "side" to be placed further away from each other, much like those of us who don't like the two touching on a plate. If Caregivers place Tange's grain and fruit too close to the hay flake, she'll pick up the hay and walk away a respectable distance.
Flora dines more slowly than Tange, so she normally gets to eat her breakfast without interruption, but on occasion Flora will come over and try to steal Tange's hay. Not one to be outdone, Tange has learned that she can hold and balance the entire block of hay in between her long tusk and the upper part of her trunk, while she breaks off smaller bunches of hay and pops them in her mouth with her trunk fingers. It's all part of a master plan to be able to perform a quick getaway with her hay if Flora threatens to take it from her. On this particular day, Tange got to finish her meal in peace, exhaling her contentment every now and then with a rumble, whether at the tasty morsel, the extra attention, or the glorious sunny Tennessee day, no one knows.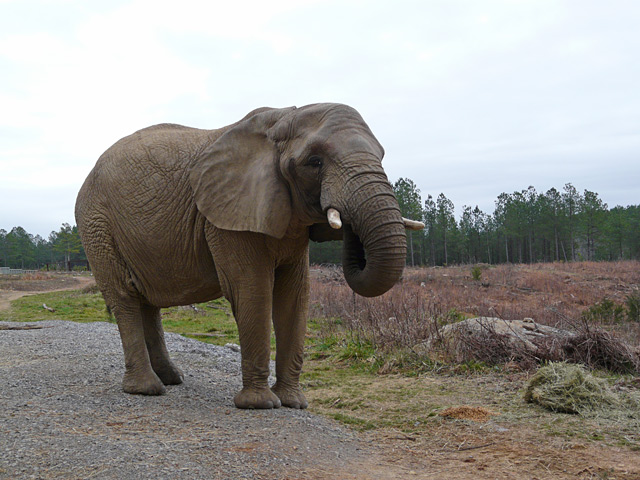 Watch Slide Show!