March 27, 2013
By: The Elephant Sanctuary
March 27, 2013
A Quick Dip

One Saturday earlier this month, the temperature actually climbed high into the 70s. Misty and Dulary decided that the day couldn't slip past without enjoying their first swim of 2013. Well…it seems Misty decided that, and then she convinced Dulary. Sadly, the warm weather would not last, but at least we caught the swim on camera. Watch the fun!


A Play Date at the Q Barn

If you have spent any time keeping up with the goings-on in The Sanctuary through our elecams, you may have heard about the regular "play-dates" between Minnie, Debbie, and Ronnie. The Sanctuary believes strongly in encouraging the Girls to build trustful relationships with one another, and these play dates are important parts of the livelihood of all three individuals. All of the Girls at Sanctuary have strong personalities, but Minnie has a reputation as an especially expressive and outgoing elephant. Debbie and Ronnie, though very social, aren't always the most willing playmates for Minnie. Ronnie is also very protective of Debbie. Fencing is in place between the Girls, providing the opportunity to see, smell, and touch one another without being out of their comfort zone. We want to encourage the Girls to be as social as their comfort levels allow, and we organize monitored "play-dates" for Minnie, Deb, and Ron where Minnie can join the other two so that they can continually build their relationship. Caregiver Kelly reports on the most recent play-date.
"Deb, Ron and Min had another successful play date this week! Minnie was so wonderful. For the most part Debbie would stand nearby with her back end towards Min and Ron, who of course were always playing. At times Minnie would walk over to Deb and was very gentle with her. Of course, Deb's best friend Ronnie was always nearby to look out for her. If Minnie ever got too rough, Ronnie would always place herself between Deb and Min as a buffer. There were even times when Minnie walked off on her own grazing on grass and let Deb and Ron do their own thing. Then when it came time to separate, Caregiver Justina went out on the ATV with plenty of good treats. Minnie didn't even need the treats to convince her to follow, she heard the ATV and followed. It was a perfect separation with no hard feelings on any end. We hope to continue with the play dates once a week for now. As the Girls continue to build their relationship, we will offer more frequent play-dates."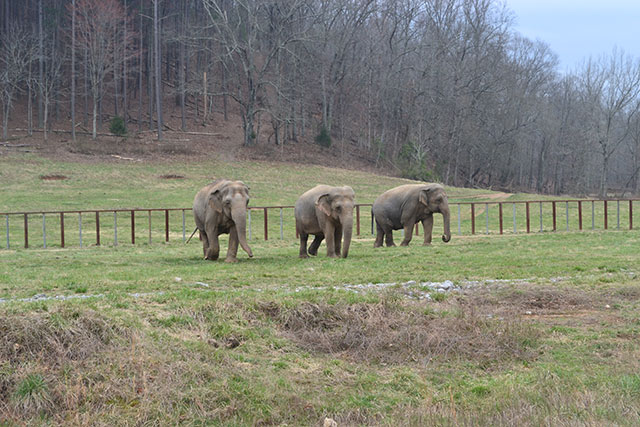 Minnie, Ronnie, and Debbie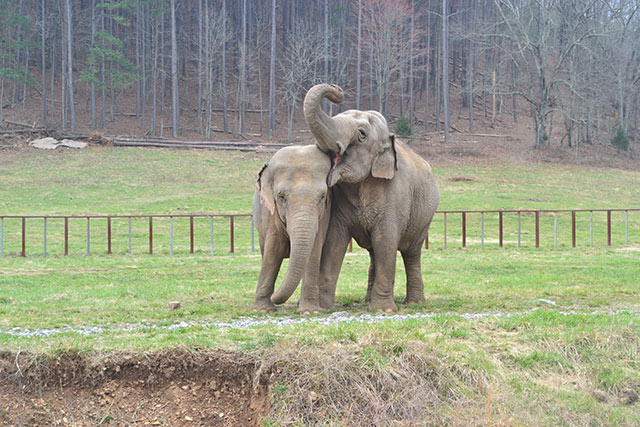 Ronnie and Minnie
Remembering Queenie
March 29th marks the 5th anniversary of Queenie's passing. Queenie was sent to Sanctuary following the USDA prosecution of the Hawthorn Corporation. Queenie and her traveling companion, Liz, arrived at The Sanctuary in February of 2006 as part of the "Caravan to Freedom" that brought eight of the Hawthorn elephants to Sanctuary. Her passing in 2008 came as a complete shock to The Sanctuary community. Caregiver Kelly:
"I will always remember Queenie as a playful independent elephant. She would always go wander on her own and find great napping spots and bravely explore the habitat. She also loved to play. She and Minnie would swim in the pond together and climb all over each other. We had a toy up for Min in the barn, but Queenie is the one who really loved it. She would kick it and head butt it for long periods. You always knew when she was in the barn because of her signature squeak. She was a great lady."

You can read Queenie's full bio here.