May 10, 2012
By: The Elephant Sanctuary
May 10, 2012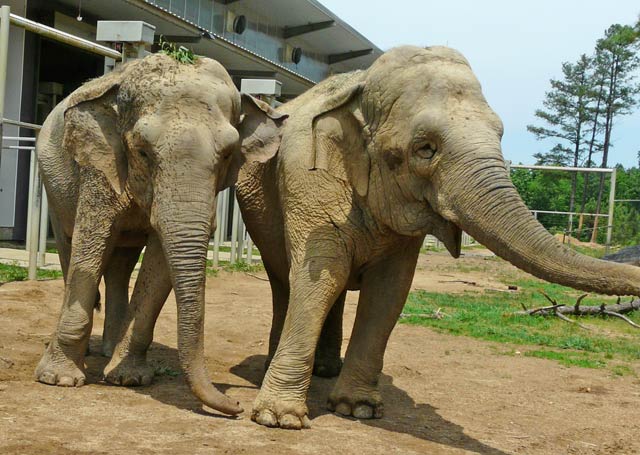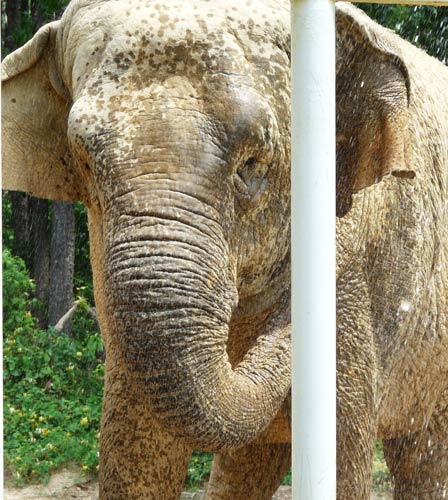 In Asia -

The Caregivers at Asia set up a sprinkler for Misty and Dulary to enjoy as the temperatures have been gradually rising in Tennessee. Misty LOVES the sprinkler, and likes to stand underneath the light spray, letting it coat every inch of her skin. She turns several shades darker, a beautiful slate grey, as her body is washed clean of any dust or dirt. After getting thoroughly soaked, Misty likes to turn around and stand stock still. She stands with her back to the spray, letting it arc up and over her body and fall lightly on her head, her mouth spread open in the ever-present smile that is so signature Misty. When asked how long she would stand there, enjoying the shower, her Caregivers replied with a laugh, "hours - as long as it's on."
Dulary is not quite as fond of the sprinkler as Misty is, and on one recent day, she stood nearby and watched her friend's bliss with a rather festive accessory - a vine that lay jauntily on the top of her head, forming a crown of Spring greenery. She let it remain there, a decoration of sorts, as she walked around near the barn, waiting for Misty to finish her shower.
Not one to miss out on any fun, Tarra came over to visit Misty and Dulary the other day and discovered the dynamic duo's new water feature. After Tarra came over to investigate, she decided to face the sprinkler head on - with the water splashing directly on her face and trunk. Her dark, wet, charcoal grey face seemed to pop out from her dusty powdery grey ears and body, as if she were wearing a mask. Her ears flapped contentedly. Who doesn't feel invigorated by cool splash of refreshing water on their face?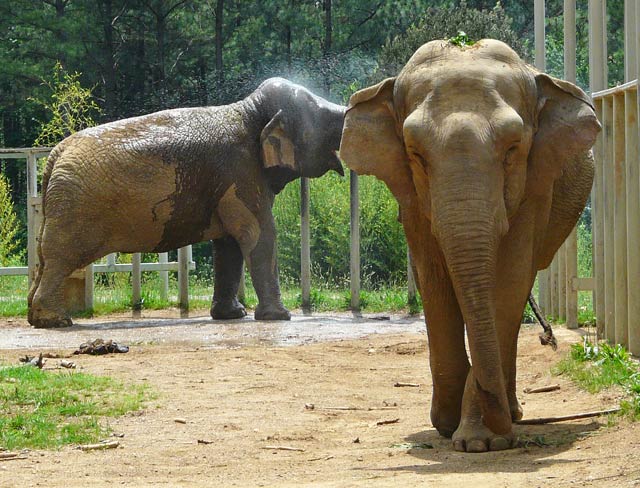 Over at Q –

Spring is the rebirth of many of nature's wonders, and the Q Girls have been experiencing that magic first hand. Caregivers Kelly and Justina were feeding the Girls dinner late one afternoon, the setting sun still radiating warmth as they set out on the four wheelers. They delivered Minnie's dinner along a fence line and waited for her to approach. "Usually Minnie needs some help in finding her food," says Caregiver Kelly, "which entails a Caregiver pointing it out and waiting nearby, to make sure she sees it before driving away. Once the Girls see their food, usually nothing else matters to them until they have finished gulping every last bit up." This evening, though, was different. After Minnie spotted her hay and produce, and began advancing in its direction, she suddenly veered off to the right. Her trunk was stretched straight out in front of her as she began moving fast, her feet clipping along at a quick pace. Her Caregivers couldn't imagine why. Then, to their surprise, Justina and Kelly noticed a mere six inches from the tip of her trunk was a little butterfly, floating lazily on the evening breeze. Minnie's trunk moved this way and that, darting up and down and around as she moved it in response to the butterfly's flight, following every flutter with a wave or wiggle of her trunk. "Minnie showed us, yet again, just how she is always up for adventure and enjoys any excuse to play," said Kelly.
Boisterous Minnie had a great time chasing her butterfly, but last week Caregivers noticed cheerful Lizzie seemed to have made friends with one. Liz was eating her hay in the habitat and they noticed a little butterfly had alighted on her, content to rest on her ear. The butterfly flapped its wings as Lizzie peacefully munched her hay - they both seemed to be enjoying the sunshine's warm rays on this pleasant Spring day.
Kelly and Justina couldn't help but notice how both Girls responded to the butterflies in a way that embodies their very different personalities - Minnie gleefully chased her butterfly, while Lizzie contentedly befriended hers.

At Africa –

Check out the latest Elecam Encounter posted to our YouTube Channel showing Tange and Flora wallowing in their mud puddle last week. After a brief moment of sharing the spoils, the more submissive Tange makes way for Miss Flora!