May 18, 2012
By: The Elephant Sanctuary
May 18, 2012
In Memory of Barbara
1966 ~ May 18, 2001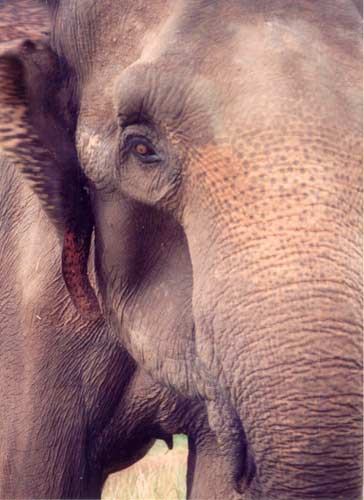 Barbara was born in 1966 in Sri Lanka. Her life in captivity began when, at the age of 2 years old, she was captured and taken from her true family to begin the arduous process of being trained while living in a mahout logging camp. It was not long before she was shipped off to the United States, and Barbara and seven other elephants were purchased for a life in the circus. They traveled and performed together for twelve years and after countless performances and many years of bonding as a elephant family, Barbie and her herd were retired from the circus and sent to a breeding facility.

Barbara began to lose weight, and despite various tests throughout her life, no cause for her condition could be ascertained. She continued to be plagued by an inability to absorb nutrients and maintain body condition the rest of her life. The youngest member of her herd, Barbara, unlike her sister elephants, was never able to conceive. In November of 1995, Barbara's herd was moved again to a different breeding facility but this time the owner refused to accept Barbara. Emaciated and now separated from her family, she was left to live in isolation and became depressed. On a magical Spring day, April 25 1996, at the age of 30, Barbara found sanctuary in Tennessee as The Sanctuary's second elephant resident. Tarra had not seen another elephant in a long time, and the two became fast friends. Tarra wasted no time introducing Barbara to her new home.

Barbara arrived 2,000 pounds underweight, but everyone soon found her slight frame was no indication of her inner strength. Barbara was a most kind and gentle soul, with a quiet disposition and strong heart. She was elegant. Those who knew her remember she had a special presence about her, and her eyes stirred deep emotions within your soul. She was so elegant and graceful, tall with lovely long legs. "She moved like a dancer," one of our dear supporters recalls with a beautiful reverence.

Barbie's spirit was that of a true wanderer. In the Sanctuary's early years, before the miles of Elephant Fencing was in place, Barbie occasionally surprised some of our neighbors with a visit to the back porch for some popcorn or a trip to a tasty vegetable garden. Back in those days, the Sanctuary had few employees and we relied heavily on volunteers to help with a variety of tasks. Though rather serious by nature, Barbie often surprised her Caregivers with moments of lightness. One special moment happened during a cleaning session in front of the barn between Barbara and a volunteer. Tarra and Jenny (who arrived that same year) were off in the distance, but Barbie stood just on the other side of a temporary fence, watching the work. "Barbie was acting in an unusual way, reaching, reaching her trunk out to me. I remember thinking, 'Isn't this so special, she adores me, she's reaching out to me, and then I realized she was trying to take the gum out of my mouth!'" our volunteer remembered with a smile.

Barbara was our 2nd resident and the first girl to pass on while under our care, and she holds an extra special place in our hearts. It was our privilege to provide Barbara with the sanctuary she so deserved during the final 5 years of her life. On May 18th, surrounded by her Caregivers and with her loving elephant family nearby (Tarra, Shirley, Sissy, Winkie, Jenny and Bunny) our dear Barbara passed on at the young age of 35. Barbie was buried up high on the Sanctuary grounds, in a beautiful spot where she was often found watching as the sun set late in the afternoons.
When Barbara passed away in 2001, The Elephant Sanctuary had not yet begun the tradition of a Tribute Page. In Honor of the Anniversary of Barbara's passing this year, please take a moment to remember Barbie on her newly created Tribute Page.