May 2, 2013
By: The Elephant Sanctuary
May 2, 2013
Spring!!!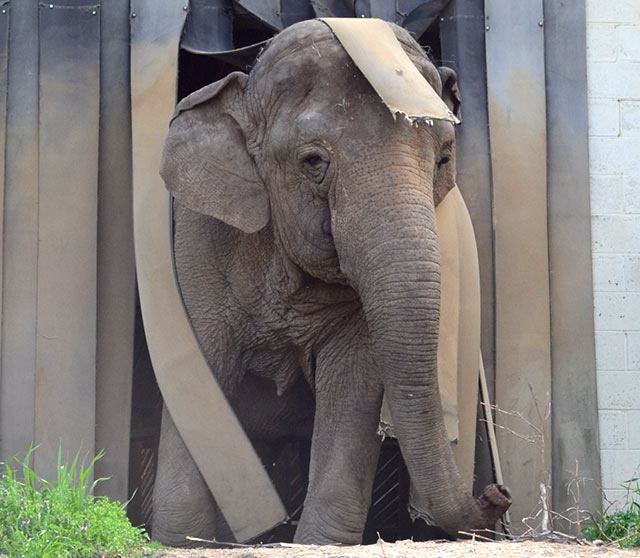 Minnie exits the barn for another day in Sanctuary
Spring is finally in full swing here at The Elephant Sanctuary. The weather is warming up, the ponds are inviting, and everything is getting greener. For the Girls, this means fuller use of the habitat 24 hours a day and fewer and fewer visits back to the barn. As Minnie is "demonstrating" above, the Girls can come and go from the Barns whenever they like. Elephants don't lie down for the night and sleep, they actually sleep intermittently throughout the day and night. Our Caregivers report that many of the girls are now staying out all night, grazing and napping under the stars.

Along with the warmer weather comes the opportunity for many of the girls to venture back into their ponds. The Asian elephants especially enjoy actually getting into the water, sometimes submerging themselves completely. Their trunks serve perfectly as snorkels. With the added buoyancy that the water provides, the Girls are able to move and interact with each other in ways that would be impossible on the land.

Caregiver Kayleigh explains, "Debbie spent a little time hosing herself off before she dashed into the water, slapping her trunk on the surface of the water, then rolled around and played with some trees that were hanging over the pond. Ronnie didn't want to miss out on all the water fun, so she dove right in after Deb and splashed around next to her."

Dulary is Turning 50!
2013 is a year of milestone birthdays, and we are celebrating Dulary's 50th birthday this month. May 1st marked her 6th anniversary at Sanctuary. The Sanctuary is honoring her with a day of festivities at the Welcome Center in downtown Hohenwald, and you are all invited! There will be family friendly activities all day, a presentation from Dulary's Caregiver at 2:30, and cake served all day!
Email elephant@elephants.com for more info!