May 9, 2011
By: The Elephant Sanctuary
May 9, 2011
April went out with a bang, sending severe thunderstorms and threats of tornados our way. Fortunately, the Sanctuary escaped any major issues, just getting a nice, thorough drenching with the heavy rains. As usual, the Ladies loved it, and took great pleasure in the many mud holes and overflowing ponds the rains produced. The few days of sunshine in between rain and storms were a welcomed change for elephants and caregivers alike. It is always a chance to tidy up what Mother Nature may have scattered around, and gives things a chance to dry out as well.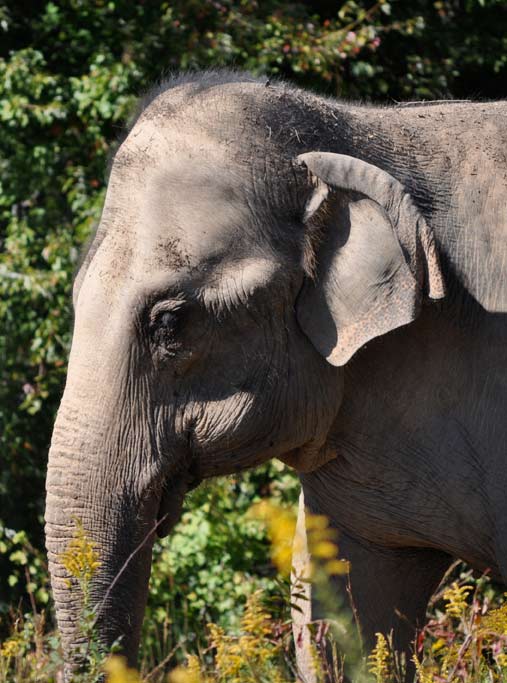 Often Sissy and Winkie will find themselves separated—one will wander while the other naps—but they are usually reunited right away. This past week's temporary detachment happened during morning feed, with Winkie running down the length of the pipeline to meet up with Sissy again, vocalizing and tapping her trunk the whole way.

Unfortunately, it was muddy, and it seems that Winkie tweaked her ankle while she was running. Winkie arrived with a stiff right wrist over a decade ago, for which she receives joint supplements, and it usually does not bother her much. By 5 pm the night of her run back to Sissy, Winkie started to appear stiff in her right front leg, and by 10 pm she was very stiff, losing most of the bend in her elbow. In the daylight of the next morning, a thorough examination of the area was done, noting some slight swelling between her wrist and elbow. There were no puncture wounds or bites, and the area was not warm to the touch; in addition, there was no negative reaction from Winkie as the area was palpated. Dr. Scott recommended taking her temperature and putting her on an anti-inflammatory for a couple of days. We also started doing warm baths on Winkie's leg. She reacted with her signature trunk taps, welcoming the warm water's soothing effects. These were done both morning and night.

The other day, Winkie's leg started loosening up again, and she regained some of the flex in that joint as well as some of the speed in her walk. Now Winkie looks great. She is much more flexible and her gait has returned almost completely to normal. We'll continue her anti-inflammatories for a few more days, and will increase the dosage of one of her supplements that is intended to aid in joint comfort and the production of fluid that helps pad those joints.

For Tange and Flora this time of year, a familiar pattern begins to emerge, where they spend a few days at a time in each of a few "usual hangouts." After staying in one area for a bit, they move on to the next after stopping by the barn on the way—as if to make sure it's still there—before setting off for another stint in the habitat.