December 27, 2016
By: The Elephant Sanctuary
Milestone Birthdays
This year, three Sanctuary elephants celebrated milestone 50th birthdays.
The Elephant Sanctuary in Tennessee is now home to five elephants age 50 or older. Shirley, the third oldest Asian elephant in the country is 68; Billie is 54; and Minnie, Ronnie, and Winkie all celebrated 50th birthdays in 2016.

In the wild, elephants can live to be 60 to 70 years. Sadly, the average life of a captive elephant is usually cut short due to chronic, progressive health conditions common in captive elephants. The average age of a captive elephant is only 40 years. However, with individualized care, captive elephants can live longer—sometimes much longer—as Shirley has testified.
To celebrate Minnie and Ronnie's milestone birthdays, Caregivers hung streamers and two cardboard balloons for the two to discover. They each received a present filled with hay, jelly beans, and popcorn. Both elephants enjoyed stepping on the boxes and finding/eating the surprise inside. Debbie joined in on the party soon after.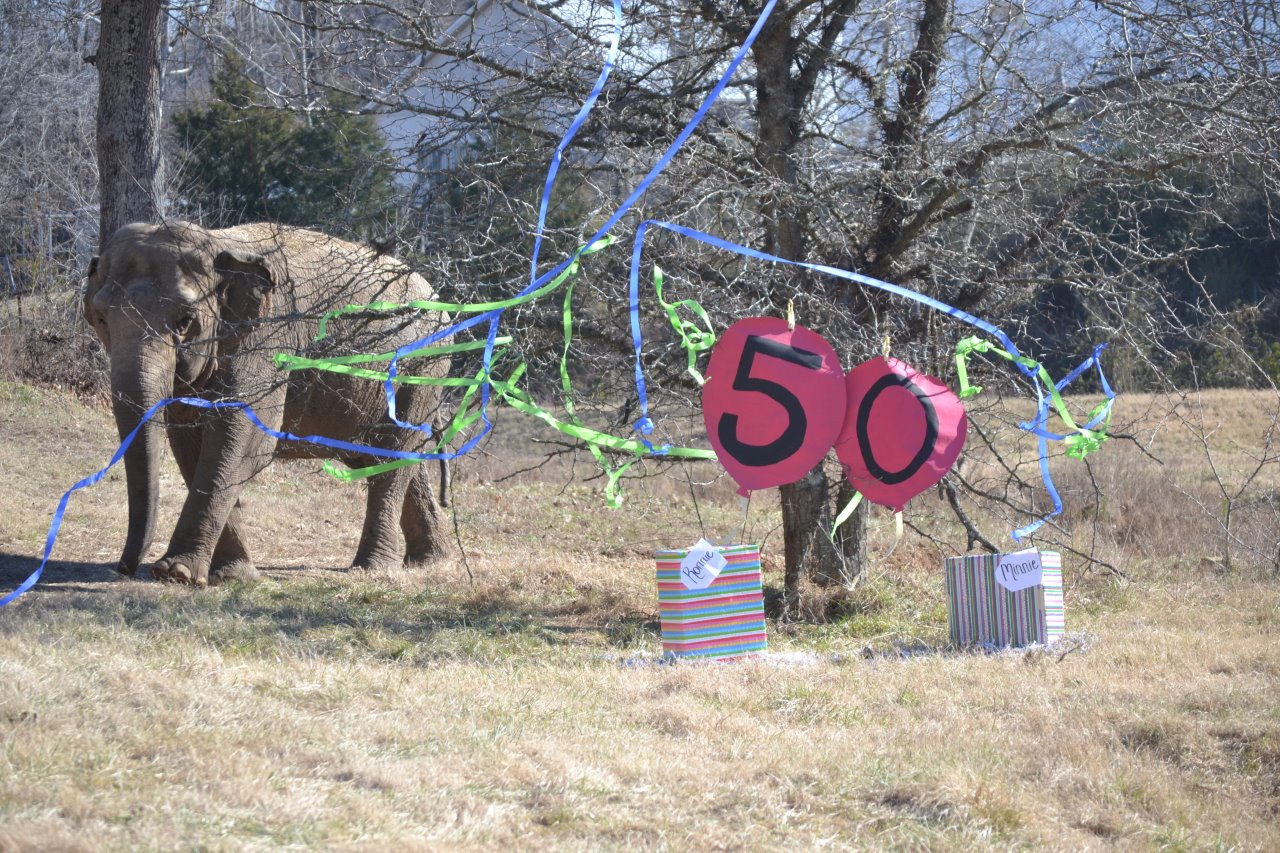 Minnie was born in Asia in 1966. She was taken from the wild and exported to North America the same year. She was purchased by the owner of a private wild animal farm in Alberta, Canada and named Talli. She was the sole elephant on exhibit. At age 17, she was sold to Circus Vargas and her name was changed to Minnie. After traveling for years with the circus, Minnie was sold to the Hawthorn Corporation along with Lottie, Gypsy, and Sue. The elephants were then leased for use in circuses and performing exhibitions.
As a result of USDA prosecutions against the Hawthorn Corporation for violations of the Animal Welfare Act for inadequate care and mistreatment of its elephants, Minnie and ten other Hawthorn elephants were transferred to The Elephant Sanctuary in Tennessee.
Ronnie was wild-born in Asia in 1966. Like so many other circus elephants, she was captured at a young age, separated from her family, and shipped to America for training and performing in the circus.

Little is known about her early years, but records indicate in 1975, at the age of nine, Ronnie was purchased by the Hawthorn Corporation, a company that trained and leased elephants to circuses. Ronnie spent the next three decades performing. When not performing, Ronnie and the other Hawthorn elephants would be housed in a dark barn, chained in place for much of the day. In 1993, Ronnie gave birth to a male calf named Nicholas who also performed in Hawthorn circuses. As a result of USDA prosecutions against the Hawthorn Corporation for violations of the Animal Welfare Act involving inadequate care and mistreatment of its elephants, Ronnie was transferred to The Elephant Sanctuary in Tennessee in 2006.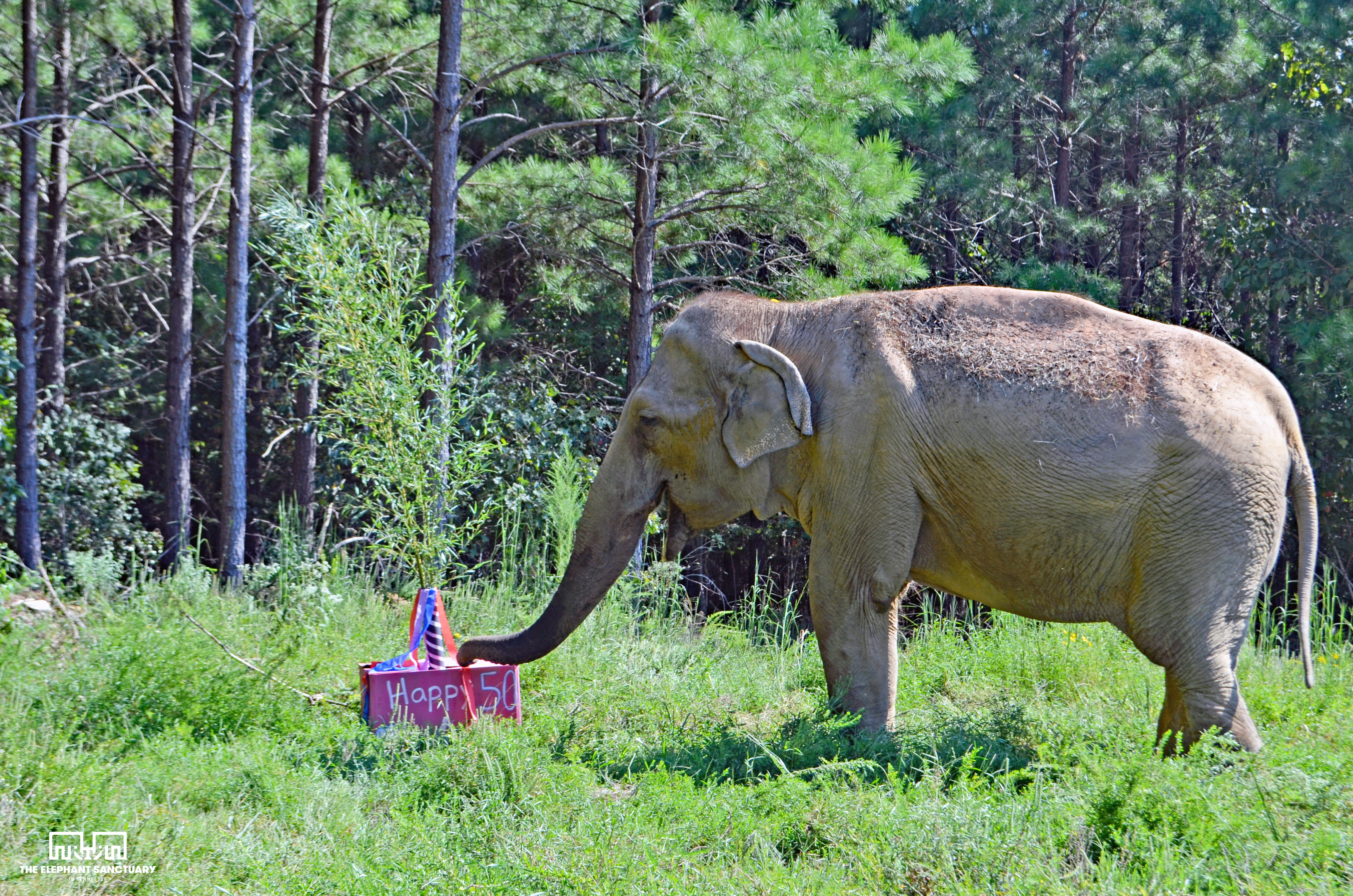 Winkie also celebrated her 50th birthday earlier this year with special enrichment in the Asia Habitat. Winkie was born in Myanmar (formerly Burma) in 1966. At approximately one year of age, she was captured and sold into the exotic animal trade, which brought her to the Henry Vilas Zoo in Madison, WI. Winkie responded to a traditional dominance based, free-contact system by showing aggression towards the humans around her. Over the course of her 30-year stay at the zoo, Winkie acquired a reputation as a "dangerous" elephant.
On September 12, 2000, Winkie arrived at The Sanctuary as its 7th resident. Sissy, having arrived just a few months prior, quickly became her closest companion. Both elephants came to The Sanctuary with a reputation of being anti-social and unable to get along well with other elephants, but they seemed to be a perfect fit for one another. Today, Winkie and Sissy spend most of their time walking the "2nd Pipeline" area or at "Dr. Scott's Pond." They are often observed swimming there or at the pond near the Asia Barn. They are rarely seen apart.