November 15, 2010
By: The Elephant Sanctuary
November 15, 2010
A caregiver returning from dinner was greeted by a noisy ruckus from the Divas' barn. When she entered the barn, not one, not two—but three elephants were playing with elephant-sized toys. Debbie, Ronnie and Minnie were all banging on their own toys, each in their own way. Minnie was back-kicking a barrel around as it hung from the stall bars, Ronnie was batting a hanging tire with her trunk, and Debbie was alternating between rubbing her side on a hanging barrel and kicking at it. It was quite the percussive ensemble!

The mild November weather this past week was a welcome stretch of warmth for all here at the Sanctuary. The Girls are able to spend their nights with access out of the barns if they so choose—and many do. Debbie and Ronnie spent at least part of one night on top of Pine Hill above the night yard extension. In the morning, they were contentedly waiting among the tall pine trees, made fragrant by the slight breeze and warm sun. Both ladies were ready for breakfast and with ears sticking out in anticipation, greeted their caregiver with little trunk blows. Minnie is usually waiting out past the Pond Yard in the "40," as the sun coming up over the ridge has already reached that area by breakfast time.

The deer are out in force in the evenings, and when going out or returning from the dump field with the manure wagons, their bouncing white tails are visible even in the half-light of dusk. Our deer return year after year, usually bounding over to the tree line when you drive by. They stop to watch, then return to the field to graze and pilfer whatever the Girls have left from dinner that afternoon. The resident turkeys and hawks are still active as well, foraging for something to eat in the brown autumn fields.

Thankfully the mornings in Asia are stunning again with temperatures in the upper 70s in the afternoons—sunny and absolutely beautiful. Even with this recent warmth, the Girls' wandering areas decrease, and their days are filled with longer naps.

Shirley and Tarra continue to show their increased trust in Winkie; a trust that has been evolving nicely over the past few years. Twice this week, Shirley has gone out to the field at the north end of the barn and taken her nap there. In the past, she would not have lay down so close to an area with Sissy and Winkie, but it seems that is no longer a consideration. Shirley also allowed Winkie to approach her unfinished dinner and help herself. Shirley did not walk away, nor was she forced off of her food. The two stood side-by-side while Winkie picked at what was left. Most of the Girls will share food from time to time, but this is a first between these two.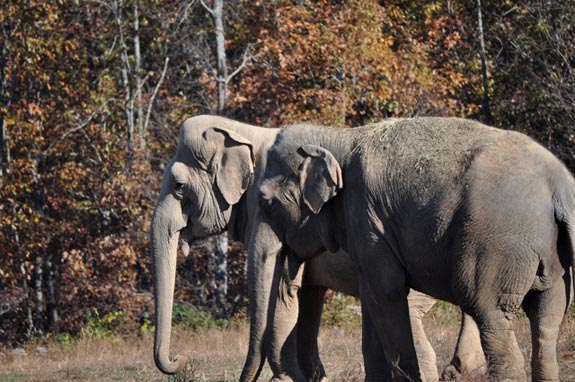 One morning in the barn, Tarra made her usual dramatic barking announcement of Winkie's approach—her "Oh, here she comes!" broadcast. However, after a brief pause, Tarra was the one who approached Winkie. She backed up in typical Tarra fashion with tail out, almost in Winkie's mouth, while Winkie placed her trunk on top of the stall bars. Apparently Tarra saw this as an opportunity for more touching, so she walked up to Winkie's trunk and leaned her head into it, inviting Winkie to place her trunk on her. When Winkie did not move, Tarra leaned in further and began to rub her head up and down on Winkie's extended trunk, in a cat-like way. This went on for several minutes and when they were done, Winkie's ears were sticking out a little more, her eyes were wide but soft, and she was wearing her "baby face" smile.

Dulary is still thrilled with the new buoy hanging in her stall. The only downside is that she initially scared her caregivers by making it sound like she was taking the barn down around her as she played with it. Dulary has two main techniques of play—she can flick her head slightly at the buoy, and with that small motion, swing the buoy all the way up to the beams above. Or, she can fully slap it and the noise from her trunk slapping the rubber echoes loudly through the barn (that's the "bringing the barn down" sound). This is followed by the pitiful squeaking of the clamp supporting the buoy, probably begging for mercy. One morning, there was a small dent in the buoy. Time will tell whether or not it will bounce back from that. Next, the buoy will be shifted over to Sissy and Winkie's area, and Dulary and Misty will receive a puzzle feeder made from a large barrel or a fire hose cube with hidden goodies.




For Lottie:
Wednesday November 10th marked exactly one month since our Lottie passed away. That night, we commemorated the date and celebrated Lottie's life with a ceremonial fire circle, attended by several caregivers from different barns.

At the ceremony we shared memories and stories of Lottie, including her past at Hawthorn, her arrival here at the Sanctuary, her interactions with her sisters and caregivers; right up until her last days with us. We gave blessings and prayers, thanking the universe for Lottie's life and her gifts to all of us, and how she touched and taught us more than we realized. What we may have learned isn't always obvious until someone or something is gone; at least in the physical sense. Realizing the individual ways that Lottie affected each of us is something we see in our own time. Everyone carries that with them until something happens one day, and you have that "a ha" moment—perhaps eliciting a smile when remembering the where and from whom it came.

Commemorating one of the Girls with the other caregivers is very comforting. Knowing that although someone may not have delivered Lottie's meals to her every day, or to even have known her very well—in many ways, they took care of her as much as her primary caregivers by their dedication and care for her sisters. What they provide for the other elephants gave as much to Lottie as anything else, and working with such wonderful people makes us all feel very lucky.

We miss Lottie tremendously, but we move forward in honor of her and all those who have left us before her—caring for Minnie and all of the other Girls that are here, and for all of those who may be coming to us sometime down the road.

Walk softly, speak softly, and peace to Lottie wherever she is.



On November 17, 2004 Lota and Misty arrived from Hawthorn Corp. in Illinois. We will forever remember Lota for her inspiration, and as the main reason that all of the Hawthorn elephants were moved to safer homes. And Misty... still bringing joy with her perpetual smile and ability to find true happiness through every moment of the day.