November 9, 2011
By: The Elephant Sanctuary
November 9, 2011
Over at Q – Before the sunshine broke through the clouds around lunchtime, it was a grey, wet, and chilly morning today in Hohenwald! Cold, rainy weather affects Caregivers and elephants both. Caregiver Sam joked that Debbie seems to be under the impression that she'll melt if she goes outside when it's below 50 degrees and raining, and chooses instead to seek shelter in the warm barn. Minnie, on the other hand, always gets a friskiness about her when the temperature drops. Our Min is always quick, but when it starts to get chilly, she moves just a bit faster, keeping Caregivers on their toes. Instead of waiting patiently at her pile of hay while Caregiver Kelly or Sam opens the gate for her, she picks up as much hay as she can and makes a run for it, reminding us how challenging Minnie can be if she so chooses.

For Halloween, Q-barn Caregivers gave Liz, Billie, and Frieda carved pumpkins. While Billie and Frieda smashed theirs to get the treats inside, Lizzie devoured her entire pumpkin. Lizzie has no problem being a one-elephant clean-up crew, and she savored her sister's leftover pumpkin pieces. Debbie also loves pumpkins, and gobbled her smaller, intact one in a single bite. Sam tried to put a small pumpkin right in Ronnie's mouth, to see if she would eat it. Ronnie spit it out and stepped on it, clearly she's not a fan.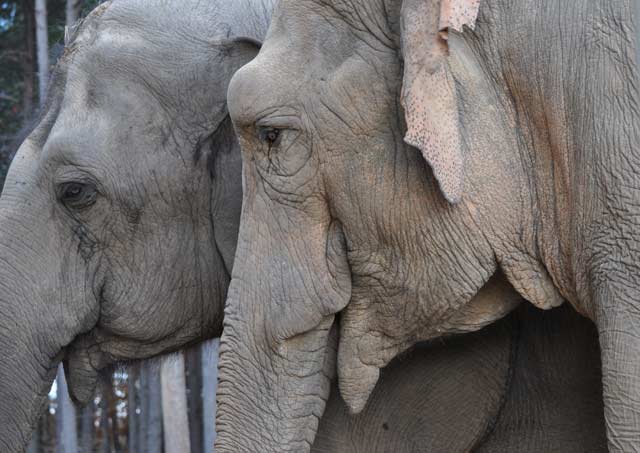 In Asia - Tarra sought out the company of Misty and Dulary on Monday, which delighted all the Caregivers in Asia. Tarra's other sisters have been very supportive, but as a rule, they are not quite as fun-loving and playful as Misty and Dulary. Sissy is sweet and reserved, and always a little cautious not to overstep boundaries. Shirley is the matriarch, and very dignified. Winkie is (although she's been exceedingly warm lately)…well…Winkie. So, on Monday Caregivers Suz and Clint noticed Dulary and Tarra communicating with each other and scrambled to open the gate separating their stalls in the Asia Barn. Tarra bee-lined across the barn, backing into Misty and Dulary's stall in a celebratory and respectful greeting. The three Girls caressed each other affectionately and rumbled their hellos. They exited the barn together and went outside, and their voices resonated across the yard for quite some time. Tarra's "er-er-er" vocalization demonstrated her excitement at consorting with her sisters Dulary and Misty. Her Caregivers were very happy to see Tarra so animated with the joyous and playful duo. As Suz said, "If you are having a bad day, they (Misty and Dulary) are the elephants to cheer you up…!"