October 10, 2013
By: The Elephant Sanctuary
October 10, 2013
Billie's Birthday

Billie's birthday weekend is here! Thanks to everyone who has watched our videos, read our messages and contributed to the Billie's Journey: Link by Link fundraiser. The Welcome Center is ready for a party!
How will Billie spend her birthday? Like any other day…doing whatever she chooses. Maybe she'll be grazing with the deer at the top of the hillside, maybe she'll be rearranging a brush pile somewhere, or maybe she'll be just be splashing away in her pond. Without a doubt, she'll be joined by her Sanctuary sisters in her celebration. Happy Birthday Billie!
In Remembrance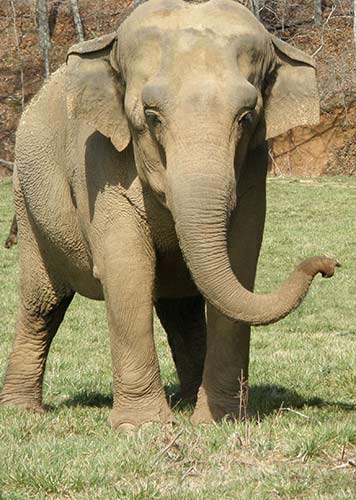 Lottie passed away on this day in 2010. Lottie came to us from the Hawthorn Corporation, and she was especially close to her old herd-mates, Queenie and Minnie. Queenie preceded her in death in 2008. As with all the other Girls to whom we have said goodbye, Lottie is greatly missed by the entire Sanctuary community.