October 21, 2011
By: The Elephant Sanctuary
October 21, 2011
Last week was a sad one for us, as Monday (10/10) marked the one year anniversary of Lottie's passing. We miss our impossibly-long-eyelashed girl, and it's hard to believe a year has already gone by. On Monday, with her friends Debbie and Ronnie in tow, Minnie ambled back to Field 7 where Lottie is buried. The joy that Minnie finds in Debbie and Ronnie's company is heartwarming after her loss, and we hope to continue to see Minnie grow in her respect for her fellow Girls.

Training in Africa has been progressing. Tange performs her trunk wash on cue, and new Caregiver Maddie is enjoying perfecting her skills with the target poles and whistling. Both Tange and Flora are making steps towards getting their blood drawn.

The maintenance crew cut down several very large pine trees in Africa to assist with road work, so Tange and Flora had piles of browse to destroy. Throughout the habitat there are naked branches and scratched up trunks. Caregiver Maddie has been trying to get a good picture of how Tange and Flora browse, but their curiosity about her efforts have made it difficult. It's a sight to see, though. They hold the branch in their mouth and maneuver it in, out, and around as they strip off all its bark.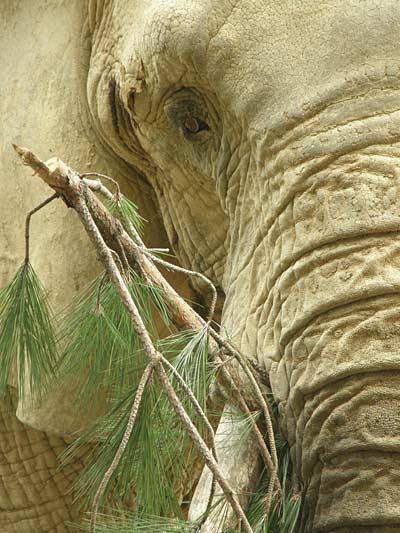 Tange with browse
In Asia, Winkie's Caregivers have been thrilled to see her light-hearted side last week. Recently, when Suz found Winkie and Sissy, Winkie was playing contentedly with a branch, despite the presence of a Caregiver as an audience. On several other occasions, Caregivers noticed Winkie with a very peaceful expression on her face, much to their delight.

Misty and Dulary continue to make progress with Protected Contact training. They are great at "target" and lifting all their feet. Misty's left shoulder has been a little stiff, which is not unusual, but since it has persisted for six days, Dr. Mikota has prescribed a treatment for her.

It's not uncommon for the Girls to get a few scrapes from their adventures in the Tennessee wilderness of The Sanctuary. Shirley and Tarra continue to be perfectly cooperative with allowing Shirley's wounds to receive daily treatment. Shirley came to visit the barn this past week, which is abnormal for the time of year and warm temperatures. Normally Shirley is quite the wanderer, but we expect to see more of all of the Girls at the barn as the temperature starts to drop.

Thank you to all of our donors for your continued support of the Girls! You've made it possible for all of them to find sanctuary here at The Elephant Sanctuary in Tennessee.