October 25, 2010
By: The Elephant Sanctuary
October 25, 2010
The colder night weather has been settling in easily, with temperatures dipping down into the mid to upper 30s on occasion. This gives us a hint about the approaching winter, so we will be slowly changing our daily routines to accommodate the needs of our Girls.

In the QBarn, heaters are already keeping temperatures steady and toasty warm for Girls when they do decide to come inside. For now, they all still tend to spend most of their time outside through the night. Debbie and Ronnie are regularly seeking the warmer areas past the South Gate, as the sun breaks through there just in time for breakfast, giving them an opportunity to soak up some warmth for the day.

Minnie continues to do well, as her caregivers keep an extra diligent eye on her throughout each day. It is nice to be able to take Minnie a fluffy piece of bamboo and just sit with her while she munches away, meticulously stripping it of the leaves in rapid fashion. Sitting in the sun, enjoying the breeze, sharing space with her is a wonderful privilege, and we are thankful for every moment.

It is hard to believe that yesterday, October 24th, marked two weeks since our Lottie passed. At times it seems like just yesterday, while in other moments, it seems to have been long ago... In watching Minnie during the day, we have noticed that she has not visited the spots where she and Lottie spent most of their time together, nor has she gone back to visit Lottie's Field (Field 7). She is passing her days fairly close to the barn, mostly in the '40' and Pond Yard Right. Minnie does venture out into Field 3, but usually only if Debbie and Ronnie are near the fence that runs along the Night Yard extension separating their pastures. During this social time, all three touch, talk and hang out there.




With Lottie's recent passing, and the timing of an October journey when others have gone on, we were reminded of Jenny, who left us on October 17, 2006.

Jenny's story drew much interest to the Sanctuary, pulling on heart strings and opening eyes to the great depths of an elephant's emotions. When many viewed her reunion with Shirley on the Nature program, Urban Elephant, they saw the desperate efforts of two elephants needing to be close, not being satisfied with just touching upon meeting. They celebrated their reconnection and overwhelming desire to be together with no bars between them—it was a powerful experience. Jenny, no longer a baby, unsteady in her health, garnered protection like that of a child from Shirley—who was always present and watchful, and able to be called back to Jenny with a single vocalization. They knew (and we learned) there would never be another physical separation until passing.

In her somewhat frail body, Jenny was a strong spirit with a strong personality. Her foot-long carrots were julienned just to her liking; but they were also known to go projectile if there was too much talking going on, even if none of it was directed at her. When her weight began to slip, she was fed every couple of hours, which usually included being hand fed because of the company of her interested sisters. A common scenario would be Jenny eating while she was lying down; lazily going over what you had to offer, selecting what she wanted at that moment; placing it in her mouth and sleepily chewing until she was ready for the next piece.

Shirley would stand above Jenny, in her usual guardian role, looking on with that loving maternal gaze and generally not taking food that was being offered to Jenny. Bunny would be slightly off to the side, usually just looking on while eating hay or grazing; every once in a while, meandering over to take a look at what was on the menu that day. With Bunny's very slow pace, there was always time to toss her a couple treats for distraction, since it would literally take her a few minutes to get there, and she was more than content with her private snack. And then there was Tarra... who was much more into food. She was apt to try and help herself to Jenny's meal, but Shirley was usually the one who let her know that was not going to happen. Tarra learned to be content with eating a few flakes of hay while waiting, and then coming over to clean up the leftovers, including sucking all the pieces of molasses coated grain left on the ground.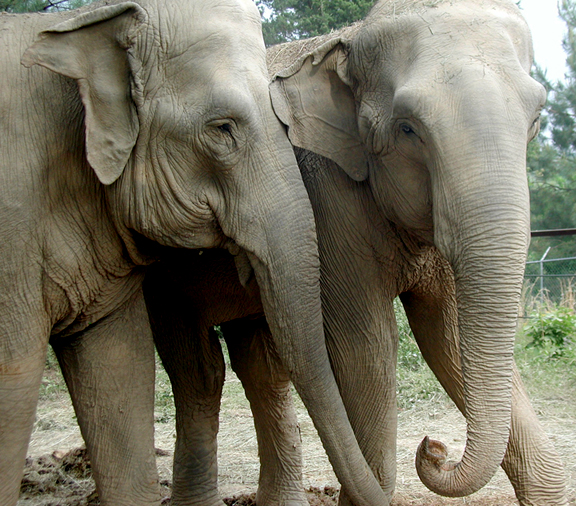 Despite her physical handicaps, Jenny would lead her sisters on explorations up and down steep hills, sometimes causing Shirley to have to quickly position herself below Jenny for support.

Probably Jenny's most beautiful gift was her selfless giving to Shirley. For an elephant who started on chains, and then only knew the companionship of humans, Shirley was quickly reminded of what it meant to not only be an elephant, but to be a mother, a matriarch, and a true herd member. Although strong in appearance and manner, Shirley softened visibly in her interactions with Jenny. They would stroke each other's faces gently with their trunks, caressing each other lovingly while Jenny sometimes leaned on her mother-figure for support. Shirley did not need to be shown how to love truly and unconditionally; that came instantly when she reunited with Jenny. More importantly, no human could have ever done what Jenny did for Shirley—helping Shirley to rediscover herself. Jenny was a beautiful inspiration to us all.