October 5, 2012
By: The Elephant Sanctuary
October 5, 2012
The Sanctuary isn't just a home for elephants; we all live together here, learning to share our space with all sorts of creatures, big and small. From stray dogs and cats that wander into Sanctuary - to the wild turkey and deer that have lived on this property long before the first elephant came along. Luckily, the Girls don't seem to mind the company – according to Caregiver Kelly, the Q-habitat has been having an unusual visitor.
"This deer has been hanging around Deb, Ron and Min's yards the past month. She is a brave deer and doesn't run from the 4-wheelers or the girls! Min will usually chase her a little but Deb and Ron don't appear to mind sharing their yards full of grass or their leftover grain that fell through the blades of grass. It's pretty darn cute!" The Elecams caught the foursome on video - providing a rare opportunity to see harmony in nature at its best. The video below is from August, when the deer first began to appear.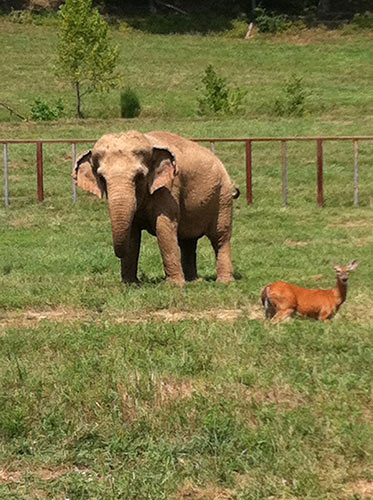 Ron and deer
Misty is quite a character when she wants to be. Whether she is digging up some tasty roots out in the habitat or frustrating her best friend Dulary with her constant napping, Misty always remains her happy-go-lucky self. Caregiver Laurie recounts Misty's creativity with her morning leftovers: "This morning she wore the peel from one of her breakfast oranges on top of her head for over an hour. She appeared to find it to be as hilarious as I did, as she also seemed like she was wearing a goofy grin the whole time. She is one of the most vocal girls at the Asia Barn, frequently trumpeting so loud I think my ear drums might burst. This always excites her sister, Dulary, who will follow Misty's trumpet with a hearty rumble and often a head bow.next they search each other's bodies with their trunks to see what else is exciting."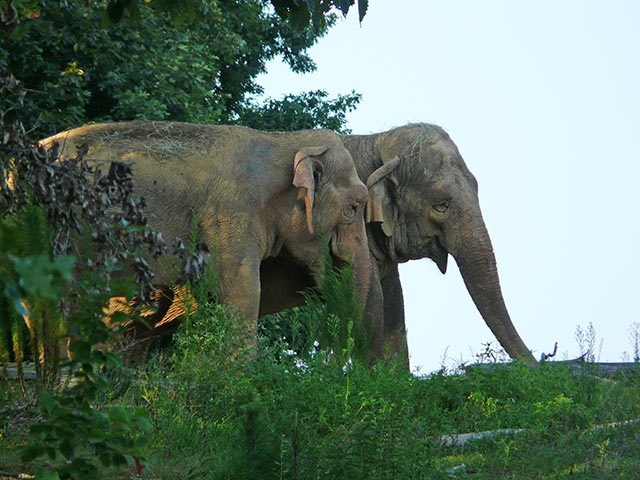 Dulary and Misty
This week we spotted Misty out in the habitat as she diligently spent nearly 40 minutes digging up and eating the roots of a tiny sapling tree until the tiny tree just couldn't stand any longer. If you missed the escapade live on the Elecam we managed to capture it in an Elecam Encounter so you can watch it here.
The temperatures have started to drop already as Fall managed to sneak up on us here in Tennessee. Many of the Girls are still more than content spending their days and nights in the habitat, but Winkie has already chosen to come inside for a few nights to get out of the cold. She is by far the most sensitive of all the Girls to the colder temperatures. "Sometimes the cold seems to tighten her up physically and emotionally," according to Caregiver Laurie. The cold can make her a little slow to respond to interactions with her caregivers and a little less eager to participate. "But so far this year," Laurie adds, "she has remained calm and open."
This morning Winkie got to enjoy some extra special enrichment because Laurie dropped her radio in the North Yard. "She found it immediately and started investigating it. I knew someone must have had it because the buttons were being pressed. I made it ring using a different radio and Winkie, being completely brilliant, figured out how to make the ringing stop. I offered her some treats to trade and she happily complied, making her happy noises and trunk taps, showing she enjoyed her noisy toy while she had it."

Winkie just celebrated her 12 year anniversary in Sanctuary and is our featured Ele this week in our Adopt an Elephant campaign. To learn more about the campaign, sponsored by Grandma's Molasses, click here.
To learn more about Winkie, her life and her journey to Sanctuary visit her bio here.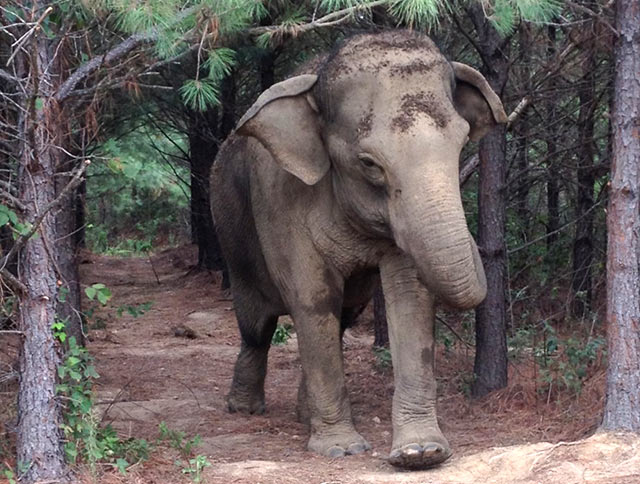 Happy Winkie