September 12, 2011
By: The Elephant Sanctuary
September 12, 2011
One grey and rainy day last week, the sometimes-challenging separation of Minnie, Debbie, and Ronnie in the late afternoon was actually going very smoothly. Sam and Kelly took advantage of Minnie's attentiveness to them and let her inside the barn first, avoiding any of her normal reluctance or her attempts to prevent Debbie from coming to the barn. Now (so Sam and Kelly thought), it would be very simple to let Deb and Ron into the second entrance. However, these Girls had other plans.

Kelly opened the gates for them and called their names, but instead of coming, Deb and Ron flew into a fit of playfulness. They spun in circles, kicking a mud puddle and sending water flying. Ronnie squeaked and squeaked, while Deb let out occasional trumpets and popped her trunk against the ground. Once their play was at an end, Debbie walked peacefully up to the barn. But not Ronnie — she came to the barn all right, but with her head held high, ears sticking straight out, and eyes as big as she could make them as she pranced up the hill to the barn….and then ran all the way down the alley to go inside.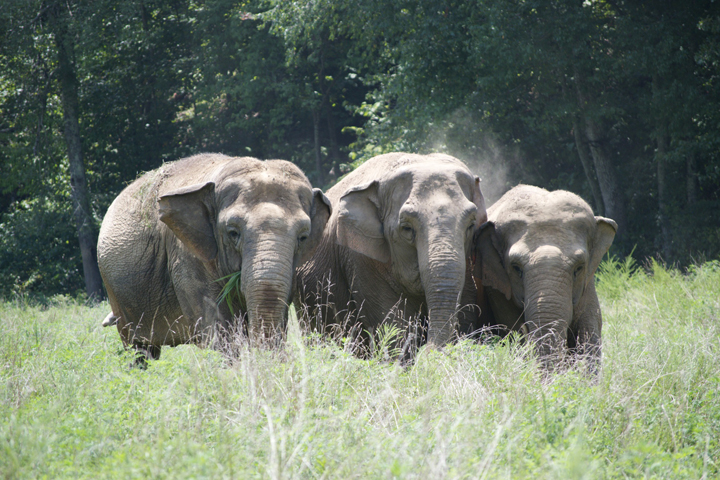 Join us in wishing a very happy 11th Anniversary to Winkie, who arrived at the Sanctuary on September 12, 2000 from the Henry Vilas Zoo in Madison, Wisconsin.