September 23, 2015
By: The Elephant Sanctuary
September 23, 2015
The Elephant Sanctuary Readies for #25 and #26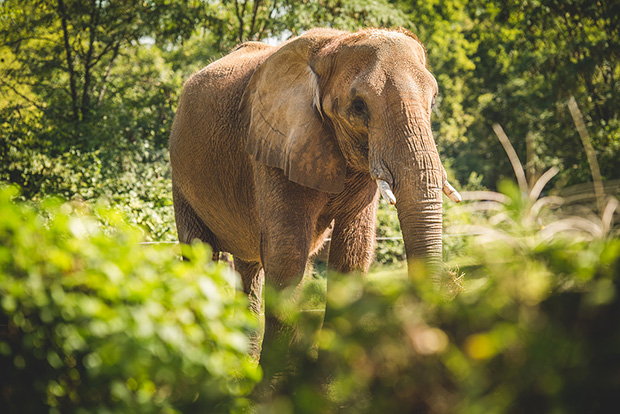 Hadari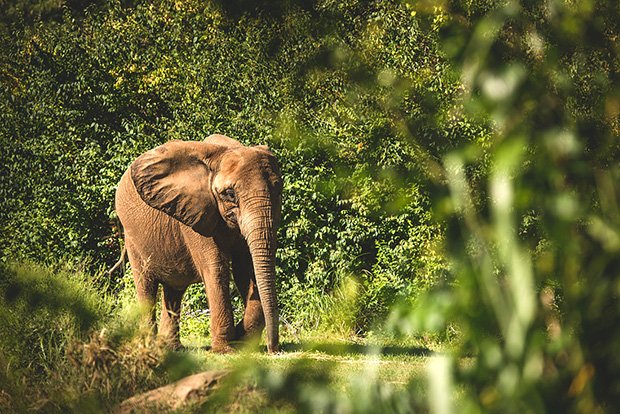 Rosie
Two female African elephants from the Nashville Zoo, Hadari and Rosie, will soon be the newest residents of The Elephant Sanctuary in Tennessee, located on 2,700 acres in Hohenwald. The agreement between the Zoo and the Elephant Sanctuary for the relocation of the two was announced September 17 by Nashville Zoo President Rick Schwartz.
"The Elephant Sanctuary in Tennessee is thrilled to collaborate with our Nashville Zoo neighbors to provide for the retirement and long term care of Hadari and Rosie," said The Elephant Sanctuary CEO Janice Zeitlin. "They will join Flora, a 33-year-old African, and Tange, a 42-year-old African, in The Sanctuary's African habitat. We look forward to working with the staff of the Nashville Zoo as we plan for their move.
Hadari is a 33-year-old female, and Rosie is 44 years old. Their arrival at The Elephant Sanctuary will increase the current number of residents in Sanctuary to 13.
"Hadari is privately owned by a couple who have worked for the Zoo caring for elephants for many years," Zoo President Rick Schwartz said. "They wanted Hadari to be close, and I respect that decision. Rosie is the second oldest African elephant in accredited zoos so it made sense for her health and well-being to keep her trip to a new home as short as possible," said Zoo President Schwartz. "We place the highest priority on the well-being of each animal in our care. Now is a good time to move the elephants while the weather is in our favor."
"When we receive a new elephant, we commit to providing care for that elephant for the rest of her life," said Janice Zeitlin. "We are so pleased that the Nashville Zoo and Hadari's owners have chosen to have Hadari and Rosie join us here where they can live out their lives in a beautiful, natural environment, cared for by a staff committed to their well-being."
Speaking of Tange and Flora, The Sanctuary's EleCams have recorded several of their "dusting" sessions over the course of summer's end. You can watch them here: VIDEO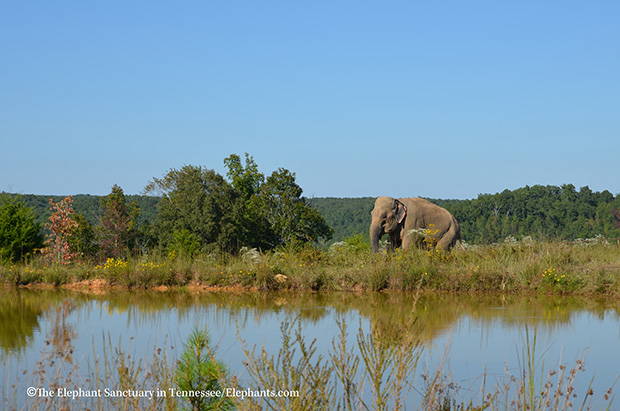 In the Asian Habitat, 67 year-old Shirley has been spending a lot of time in an area of her habitat known as "Dr. Scott's Pond," so named in honor of The Sanctuary's attending veterinarian, Dr. Steven Scott. Amazingly, this is the first time that Shirley has been seen in this area in years. It is on the other side of the habitat from the "Left Field" and "North Trough" areas. Shirley has been spotted napping in the shade and even swimming in the pond. In her 16th year at Sanctuary, Shirley still seems to be interested in seeing what is over the horizon.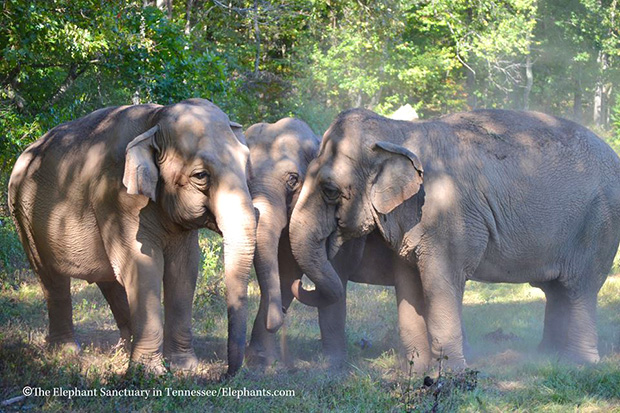 L-R: Debbie, Ronnie, Minnie
In the Quarantine Habitat, old acquaintances are being strengthened. In an effort to encourage Debbie, Minnie, and Ronnie to form stronger social bonds, Caregivers regularly plan times where all three can share space in the habitat. While this group of elephants did live together before retiring to Sanctuary, they were kept chained in place inside of a barn for much of the year and didn't have the ability to socialize. It wasn't until their arrival at Sanctuary that the Q Girls had the opportunity to freely interact with one another. At Sanctuary, these old acquaintances are still learning how to interact as a herd. Caregiver Brandi shares that a day last week when the three were together was punctuated with "excited trumpets and roars that could be heard by staff all the way back at the Q Barn."
Caregivers have also been encouraging Ronnie and Billie to be social with one another through "Cooperative Feeding." Food is placed in areas that encourage the two elephants to be in closer proximity to one another, building each elephant's comfort level with the other's presence. Again Caregiver Brandi, "At first Billie is hesitant and trumpets nervously, but she soon grows comfortable and even allows Ron to touch her with her trunk."
"Like" The Sanctuary's Facebook Page HERE to receive regular updates and photos on current and future Sanctuary residents!