September 26, 2011
By: The Elephant Sanctuary
September 26, 2011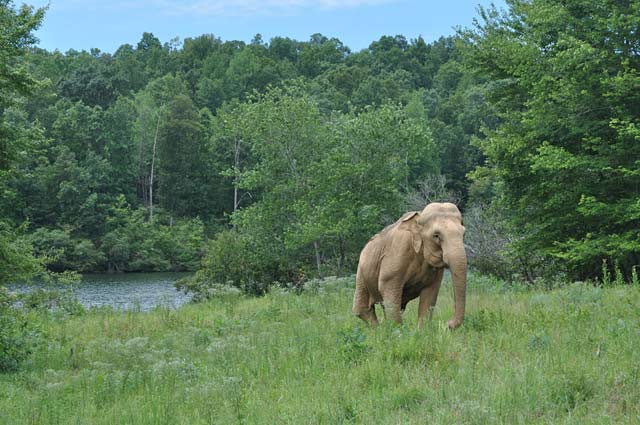 Shirley enjoys a quiet moment by the lake
It's been another exciting week at Asia. The weather has been really nice and sunny; the girls have even been taking cover in the shade and going for dips in the ponds! This is a big contrast from the last few weeks when they came inside the heated barn for several nights. The contractors have finished " pigeon proofing" the outside of the barn, which is wonderful for Misty and Dulary who now have the freedom to be in whichever yard they choose now that the contractors have gone. Hay trucks are rolling in so that we are prepared with plenty of hay for the season. Unloading the trucks is a sweaty, dusty, dirty job, but it is a little fun too - at first anyway.

The wounds on Dulary's ear are improving; we have switched the regimen, alternating between using a spray called Granulex and a cream called Dermacleanse. She is extremely cooperative with the treatments, happy to stand still while being fed cut-up produce as her ear is cleaned and sprayed or slathered. Misty has been great about leaving Dulary alone while she receives her treatments – provided we give her a flake of hay!

Winkie is a true problem solver – especially noticeable when playing with her enrichment toys – but also very emotional. So it didn't really surprise Caregivers when she started to show subtle signs of agitation this past week. The transition of Caregivers gradually taking over Scott's responsibilities is something we all expected Winkie would need time to adjust to. All the Caregivers continue to offer her love and special treats to show their support for her and, as always, Sissy is being a great sister and sticking to her side.

Shirley has a small wound on the left side of her face and front left elbow which we are treating. We are not sure where these injuries came from – just an example of how minor cuts and bruises come with the territory of letting elephants be elephants. She is still getting around great and is as spunky as ever. Tarra and Bella, of course, continue to be stars of the show. During last week's Volunteer Day they unexpectedly showed up at the barns - much to the delight of their fans. A rare treat for our hard working volunteers!