April 3, 2015
By: The Elephant Sanctuary
April 3, 2015
Spring Firsts at Sanctuary

On Monday March 30th, EleCam viewers got to watch Shirley make a slow, circular walk around the pond near Asia Barn. She soaked in the early-afternoon sun while using her trunk to tug at some reeds along the pond's shore. While the first half of March was still chilly, the end of the month brought full-on signs of spring, with temperatures warming into the mid-70s. After "testing" the water –holding EleCam viewers in suspense for several minutes– The Sanctuary's eldest resident Shirley (age 67) went in for Asia Habitat's very first swim of 2015.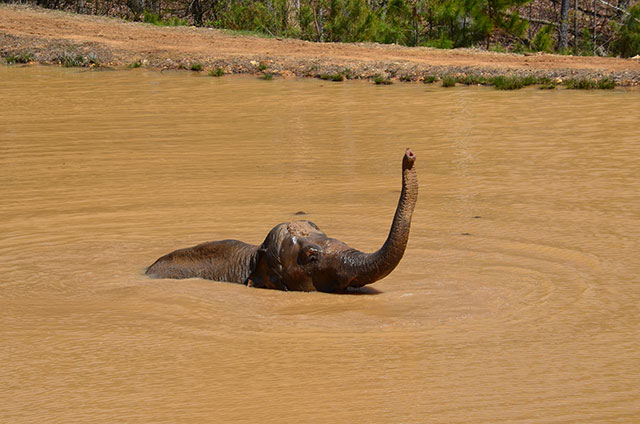 She wasn't in long: just a few minutes of splashing, and dunking her head under the water. "At one point, she scooped up a large clump of mud and splattered it onto her face. It was fantastic to watch," said Caregiver Nicole. In the wild, Asian elephants spend a lot of time in water; all of the Asian elephants at Sanctuary have access to "swimming holes." And water's buoyancy can certainly help to take an aging elephant's weight off the bones and joints in her legs and feet. Swimming also appears to offer some fun and relaxation for the Asian Girls.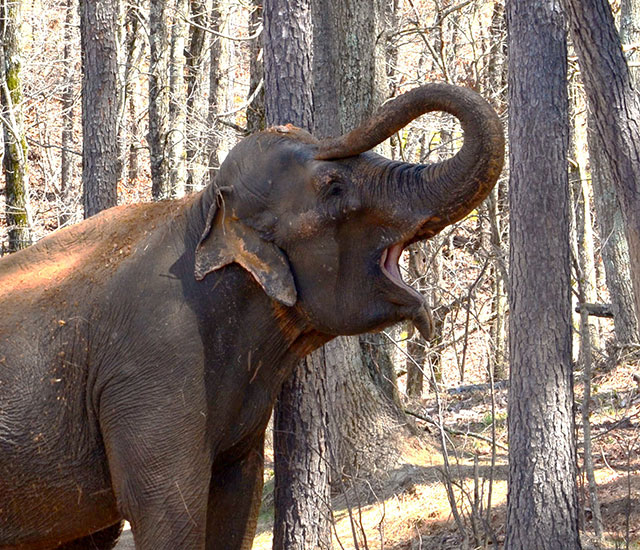 After her dip, Shirley climbed the bank and immediately dusted herself with fresh, dry soil. This is the second consecutive year that Shirley has been the first elephant at Asia Habitat to wander into the water. Her first swim last year was on March 11.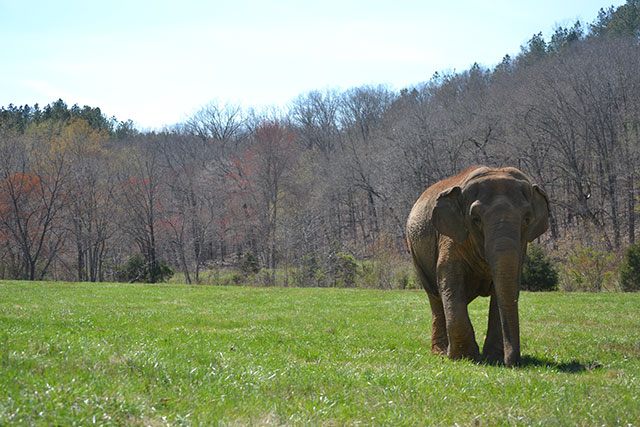 Meanwhile over at Q, Minnie reappeared one afternoon coated in giant splotches of damp mud…seemed she'd been up to her first good "bath" of the season.

The Sanctuary's also experienced its first in-kind donation of harvested grapevines in recent years! Our grateful thanks go to Amber Falls Winery and Cellars in neighboring Maury County for their thoughtfulness in remembering the Girls. The resident elephants seemingly adore the taste of grapevine, as the Winery's generous supply didn't last long! [Reminder: You can provide a resident elephant(s) with her favorite foods, supplements, and special-occasion treats through The Sanctuary's Feed-for-a-Day program.]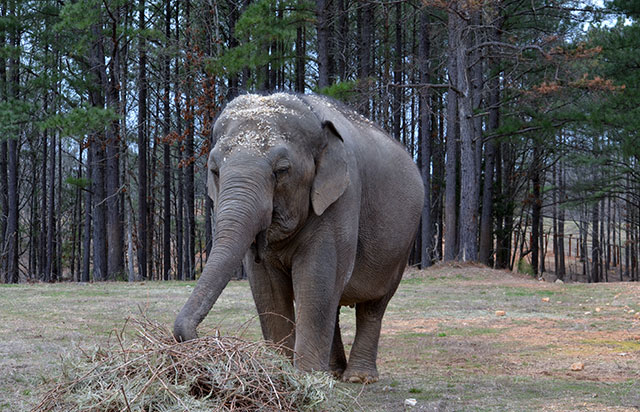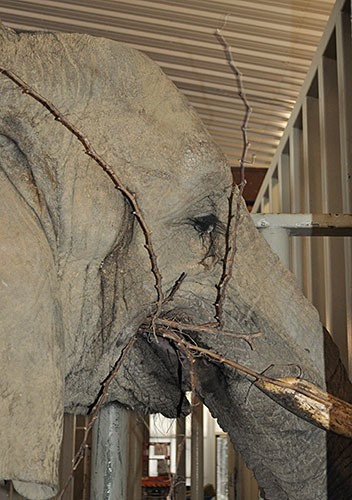 Finally, in mid-March The Sanctuary also welcomed its first volunteers of the year: Students and staff from Appalachian State University (Boone, North Carolina) spent their Alternative Spring Break on grounds with us, painting, spreading seed, removing old fencing, and repurposing elephant-feed bags into enrichment items (filling them with hay and cinnamon-spiced popcorn – a favorite for the Girls).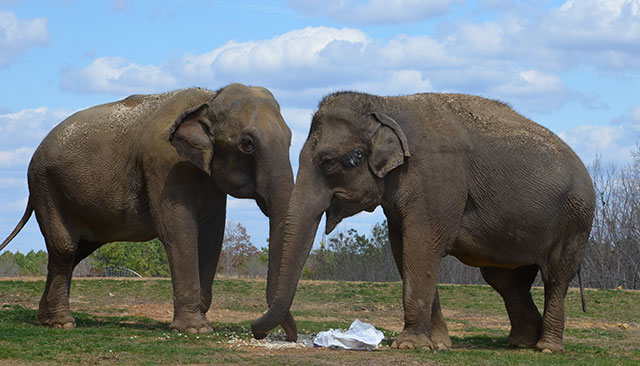 These elephant-enrichment devices have really come in handy while the Girls haven't yet opted to go out and forage more widely in the larger expanses of Asia Habitat. For now, they're still choosing to remain somewhat close to the barn, so they can come inside on cooler nights.