February 4, 2012
By: The Elephant Sanctuary
February 4, 2012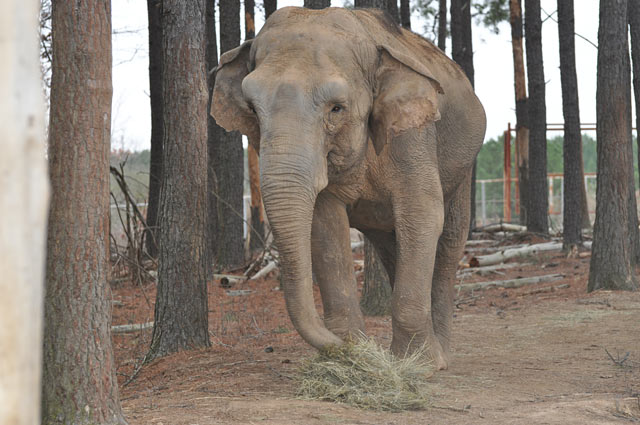 Dulary continues to improve daily.
From Susan Mikota, Director of Veterinary Care, DVM
Dulary Update
As you may recall from the January 28th Ele-note, Dulary has been ill with colic. At one point, her gastrointestinal system basically shut down, requiring that we give her fluids, enemas, and medications for pain and to prevent infection. After intense treatment and concern it finally looks like Dulary has rallied and cheers could be heard over the radio when it was announced that she defecated on her own on Tuesday. She continues to improve daily. She is now "BAR" (veterinary shorthand for "bright, alert, and responsive" ) as opposed to her previous state of "ADR" ("ain't doin' right"). Her appetite remained fairly good throughout her illness but, as we all know, what goes in must come out and that process had seriously slowed in Dulary.

The Vet staff is very grateful to the Caregiver staff at Asia for all of their hard work and close observations that contributed to Dulary's recovery. As always, The Sanctuary staff worked as a team with the common goal of helping Dulary to get well. This is just one of many examples of the importance of our ongoing Protected Contact training – which ensures that everyone – the Girls and their Caregivers – are skilled at communicating with one another to provide protected, easy access between Caregiver and elephant to ensure the best possible health care. Dulary's trust of her Caregivers made everything we had to do far less stressful for everyone involved – she has been an amazing patient and we, along with her best friend Misty, are happy to see her back to her old self again.