July 16, 2015
By: The Elephant Sanctuary
July 16, 2015
Red, White & Trumpets: Independence Day at Sanctuary


From left to right: Ronnie, Debbie, Minnie, Billie
The Fourth of July was celebrated with special enrichment treats for the Girls. The Elephant Care staff "painted" Banana leaves and sugar cane with colored marshmallow fluff to reflect the red, white and blue of the American flag. White jellybeans, a favorite of the Girls, were added for the "stars."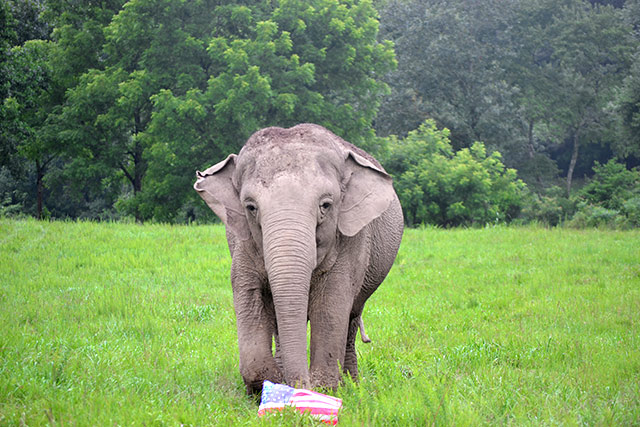 Minnie

"The Girls loved them!" said Caregiver Kristy.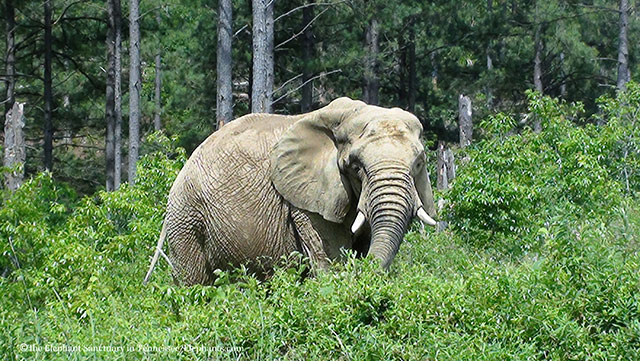 Tange, exploring the foothills of Africa Habitat's forested areas
At the Africa Habitat, Tange has been ambitious in her use of the newly-constructed mud wallow; Flora has also been observed there a few times…but Tange is a much more frequent visitor. Mud helps to keep the Africans cool and protects their skin from biting insects. As the mud wallow is conveniently located near an EleCam, you might catch Tange's next mud-bath live – just stay tuned! For those who missed it in real-time, though, we have assembled a compilation of footage below.
And in case you missed it, "matriarch" Shirley has been a Sanctuary elephant for 16 years as of this month. On Saturday July 18th at 3:30PM, our Welcome Center in downtown Hohenwald will host an educational program to commemorate the 16th anniversary of Shirley's arrival (no live elephants will be at this event). For those who can't be with us, please consider honoring Shirley's arrival anniversary by supporting her ongoing care through our Adopt-An-Elephant or Feed-For-A-Day programs!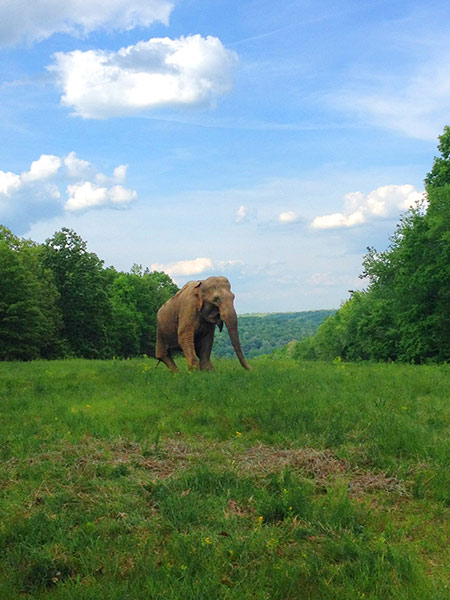 Shirley at Asia Habitat