June 24, 2015
By: The Elephant Sanctuary
June 24, 2015
Summertime Living and Updates on Sanctuary Facilities
The Asian elephants at Q Habitat have been taking full advantage of their ponds, as recent daytime temperatures have been on the steamy side. Billie has developed her own routine: an afternoon swim, followed by time spent standing in a nearby creek. She then rounds out the day in the shade of a cluster of trees Caregivers have dubbed 'Billie's Hideout.'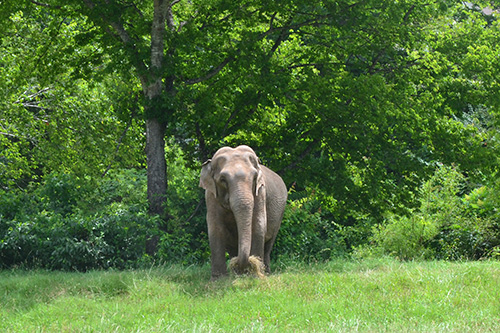 Billie
Minnie has also been spotted swimming in her pond nearly every morning, and the Sanctuary's dynamic Facilities crew has just finished installing new 'Minnie-proof' fencing, allowing her expanded habitat access.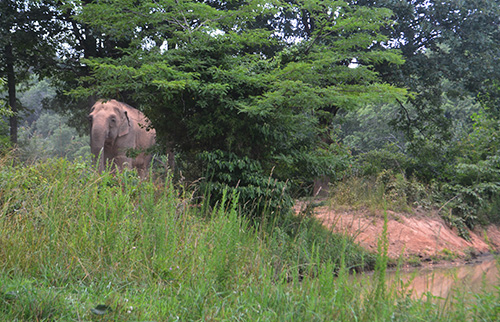 Minnie
Debbie and Ronnie have begun a new summer schedule; they often choose to escape the heat of the daytime hours by seeking out the cool of their barn. Caregivers note they now venture out later in the day to Q's woodland areas to overnight in the outdoors, returning around 7AM for 'breakfast.'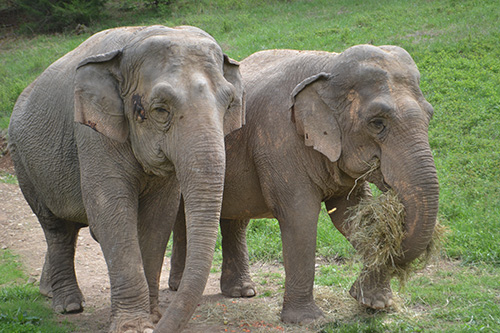 Debbie & Ronnie
Both Liz and Ronnie have experienced seasonal allergies this year. The Sanctuary's veterinarians have done testing to identify what allergens they each were reacting to. The test-results showing it was mostly grasses helped the Vets to develop individualized immunotherapies to treat their specific allergies. Care staff are delighted to see that both Liz and Ronnie are responding by being more active and making good use of their habitat.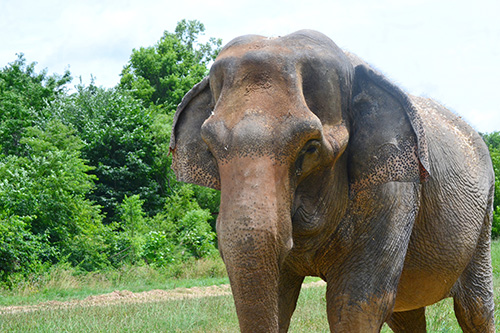 Liz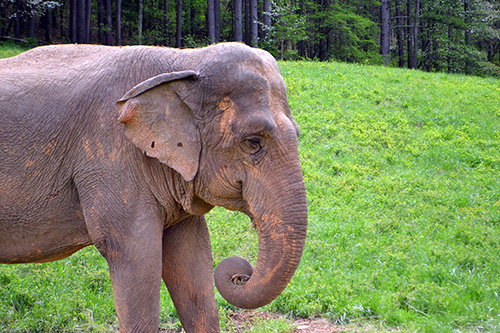 Ronnie
At Asia Habitat, Misty continues her wanderings, having taken an extensive perimeter-walk around the 25-acre lake, stopping to take a swim every now and then. Misty has visited spots known to Caregivers as Left Field, Oak Tree Pasture, Secluded Pond, Turtle Pond Pasture, and The Gauntlet—a new location for her! Shirley, too, has been having an active summer, exploring parts of the Asia Habitat where elephants have never been observed before. Lately, she likes to walk up and down the North Road to forage at an area known as Marcella's. And, as is typical of Tarra for this season, she travels from one end of the habitat to the other, to meet both Misty and Shirley for 'social hour.'


Above (L-R): Misty, Tarra, Shirley
The African Girls have also been traveling the entirety of their habitat. Both Tange and Flora were spotted by the barn on a particularly hot day, so Caregivers offered them a firehose bath, which they responded to with happy noises. And, some exciting news: Thanks to your generosity, a new track-hoe –purchased through our Big Machines for Big Girls campaign for The Big Payback 2015– has made possible the construction of a pond at Africa! In record time, the track-hoe dug out an area in the South Yard—all within EleCam view. The Girls are now exploring this new dirt feature. We are waiting to see if they'll help deepen or widen it, and when Mother Nature will fill the pond with summer rains.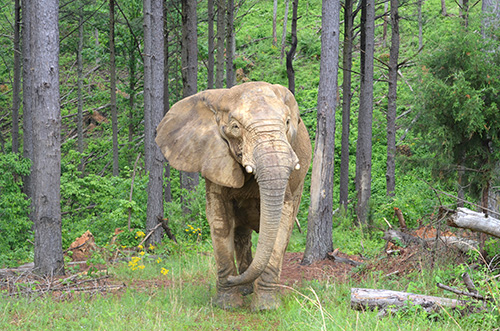 Flora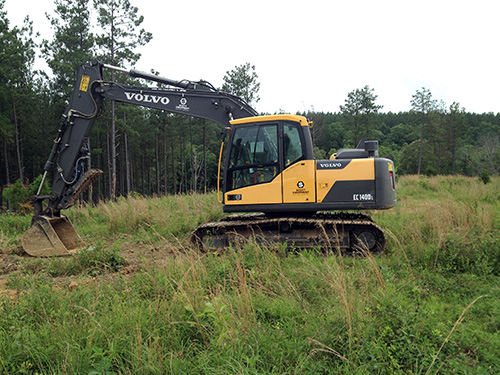 A brand new track-hoe has helped to construct a pond for the African ladies to enjoy.
EXPANDING FACILITIES TO MEET CHANGING NEEDS
The Elephant Sanctuary is currently expanding its facilities to provide and care for additional elephants in need of retirement. In preparation, The Sanctuary has begun constructing a "Transition Habitat." First and foremost, this transitional facility will serve as a safe space for care and observation of an elephant which may have special medical or behavioral needs. It will also help to ensure an elephant new to Sanctuary makes a smooth transition without impact to the current resident elephants.
The Transition Habitat will be equipped with a Protected Contact training wall, veterinary supplies and a heated shelter, and five acres of forest and meadow enclosed by secure elephant fencing. The habitat is within sightline-access of resident African elephants Flora and Tange; and for Sanctuary supporters, a brand-new EleCam tower has been installed nearby thanks to
donors' generous response
to the 2014 CrowdRise Holiday Challenge.
To lend your support
toward The Elephant Sanctuary's care of the current resident elephants, education to increase awareness of elephants' complex needs (in captivity and the wild), and preparation for additional elephants' retirement from exhibit and/or performing, please consider a gift toward our
2015 Summer Appeal
.