June 11, 2014
By: The Elephant Sanctuary
June 11, 2014
Old Habits at The Elephant Sanctuary

Shirley and Tarra hanging out together in the "Left Field" area of their habitat. Sissy and Winkie spending time in the shade of the pine trees along the "Pipeline" area. Minnie splashing around in a rain-engorged creek. Tange and Flora coating themselves in mud. Billie momentarily sitting still as a statue in her pond, only to suddenly erupt in excited trumpets at the approach of Liz and Frieda.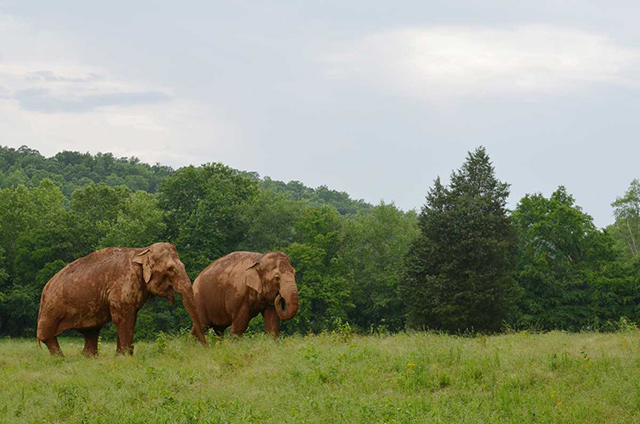 Shirley and Tarra
These are all happenings that have been witnessed by our caregivers (and EleCam viewers) over the past week here at The Elephant Sanctuary. The 13 elephants who call it home have resumed their summertime habits and schedules.
There is one elephant that has been spotted doing something very out of the ordinary, however. At the beginning of the month, our cameras caught Misty grazing near the "Lake Road"… an area of the habitat where she has not been seen in years. Maybe it was the encouragement of caregivers, maybe it was the support and companionship of Shirley after the passing of Dulary, or maybe she was just ready to explore. For whatever reason, Misty has been spotted a couple of times already this month in areas far from the Barn, unusual for her.
It seems June is a time for some elephants to resume old habits, and for some elephants to start new ones.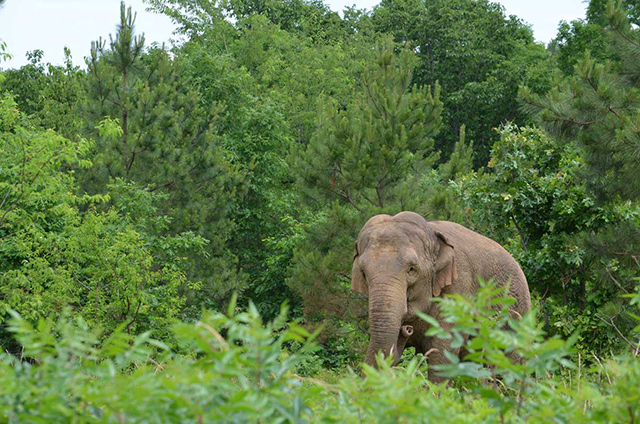 Misty
What Does an Elephant Eat?

Come to our Welcome Center on Saturday, June 21st to find out! We'll be open from 11am until 4:30pm, and we'll have a special presentation from our staff at 3:30pm about our elephants' diets. While at our Welcome Center, you can: watch live, streaming video of the Girls via our EleCams, see artifacts from the life-stories of the elephants, participate in some ele-arts and crafts, even visit our gift shop … all in a fun, family-friendly atmosphere.
Find Out More!


Elephant Zen with Billie and Frieda

Over the course of two days in May, our caregivers recorded Frieda and Billie stretching and moving in some unusual ways, what looks to us almost like "elephant yoga." As elephants age, they are susceptible to many of the same aches and pains in their feet and joints as humans. Elephants who've spent their lives in captivity have especially high instances of foot disease and problems afflicting their joints.
Many of our Girls have come to their Sanctuary home with many such problems, including Billie and Frieda. We think that Frieda's bowing may feel like a nice stretch and also help her scratch the backside of her feet. Billie is often observed just sitting in her pond, a position that would be hard to achieve on land...and even harder to get up from. After Billie's trunk-lifts, she finishes her session with a drink and a rinse courtesy of a fire hose wielding caregiver. Looks like moments of elephant "Zen" to us.
Watch here!