June 22, 2012
By: The Elephant Sanctuary
June 22, 2012
Experiences with elephant enthusiasts and our supporters are forever humbling to each and every one of us who work at The Sanctuary. This past week, thirteen-year-old Adam and his family drove over 1,000 miles so they could visit the Welcome Center in downtown Hohenwald. Accompanied by his mother, grandmother, and sister, Adam's wish for his summer vacation was to come to The Elephant Sanctuary's Welcome Center. Adam has been following the Girls for years through Ele-Notes and our website, and he knew our Girls like the back of his hand. Getting to know Adam and talking with him about the Girls was an experience all of us will remember for a long time.

Caregiver Clint penned, "This week I was lucky enough to meet a young man who reminded me just how important educating the children really is. There are few things on this earth as passionate and honest as a child. This young man, Adam, and his family drove over a thousand miles just to visit our store. I was lucky enough to be in the office picking up some supplies and got to meet them. The joy in his eyes as he talked about his favorite Girls, Tarra and Shirley, was amazing and made me smile for days. I think we all know how impossible it is not to love these Girls once we're educated about what captive life is like for elephants and what they can have here...therefore it should also be our duty to educate the people who don't know, and especially the children, who have a unique way of discerning what is right and wrong with a perception that isn't tainted by the world. I wanted to write this note to Adam and his family and thank them for showing me their passion and for being loyal supporters of our Girls."

Thank you, Adam. Meeting you was a very special experience for all of us at The Sanctuary.
In Asia
Elecam Encounter: Sissy


Sissy is a shy Girl, and although she is a very happy elephant, she will still sometimes exhibit signs of trauma from her abusive past. When Caregivers approach her, she will sometimes freeze, although most of the time she flicks her trunk tip back and forth, and fans her happy, flappy ears in an excited, "It's great to see you!" greeting. When Sissy freezes, we can't help but wonder if she is reacting in fear, remembering the abuses she endured before Sanctuary. When she stills this way, her patient Caregivers will stand quietly with her for a moment, reassuring her, until she realizes nothing bad is about to happen – then she goes right back to her happy behaviors and her "pop pop" trunk noises. In order for the Caregivers to perform a trunk wash (a procedure to check for respiratory health) with Sissy, due to her partially paralyzed trunk, her Caregivers have to hold Sissy's trunk and manually lift it up high and over her head. Then the Caregivers bring her trunk back down, cradled in their compassionate hands. It takes a tremendous amount of trust for Sissy to allow her Caregivers to handle her trunk, and her trust of Laurie and Clint during the trunk washes is truly a moving experience. Shared Laurie, "Especially with sweet Sissy, and because of her heartbreaking history and all she has overcome, it is always in the forefront of my mind to let her, and all the Girls, guide me through their training just as much, if not more, than I guide them."

Over at Q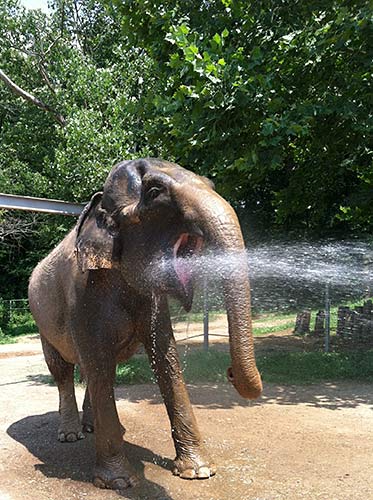 Caregiver Lindsay offered Ronnie a bath with the new high volume hose and she enjoyed it thoroughly; so much so that she turned this way and that to ensure her every side was sprayed. At first she was kneeling on her front knees to offer Lindsay the top of her head and back. As time passed, Ronnie seemed to get more and more excited. Soon she was squatting and showing signs of wanting to lie down, all without being asked. Within 10 minutes she was lying down on the barn floor and wiggling with pure joy as Lindsay sprayed her stomach and chest. She continued to enjoy this "water massage" for over 10 minutes! This event was very special to Lindsay and Justina because it showed how much Ronnie trusted them. When an elephant lies down, she is very vulnerable. Some Caregivers will work with an elephant for years and never develop enough trust for the elephant to lie down for them. It was an amazing experience to watch bathing transform from an event sprinkled with a little apprehension to a fun filled extravaganza. It was an experience that Lindsay and Justina will cherish forever.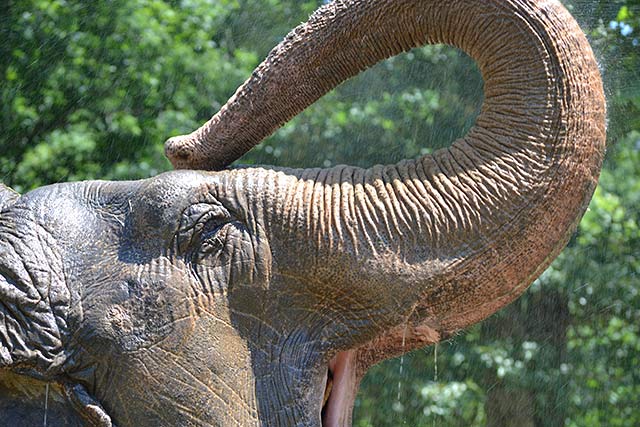 At Africa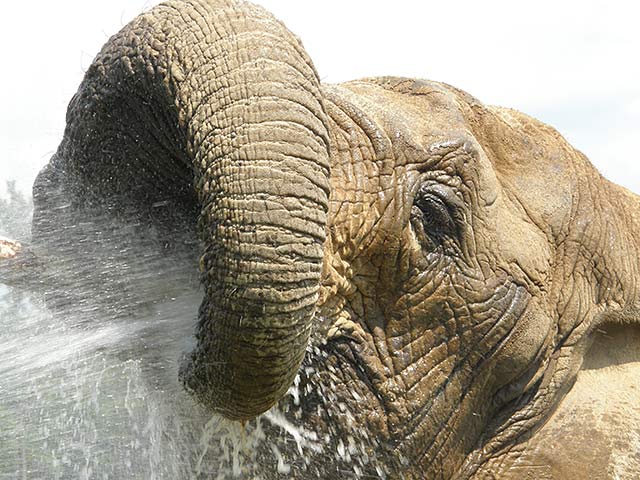 Tange and Flora are falling back into their "usual" routine for the beginning of summer. They seem to have a pattern rotating through where they spend their time in the habitat, depending on the season. The most popular areas this time of year are still the western side of the barn where they like to graze, the Pipeline pine forest, or the Plateau savannah.

This week, they have spent a few days and nights away from the barn altogether, but the last few days Flora and Tange have returned to the barn area by late afternoon, and stay nearby for dinner. The mornings usually find them in the cool shelter of the pines at the Pipeline, but if it's breezier, they may wander up to the Plateau and we find them up there for breakfast. They are able to utilize the in-progress trail being cleared by maintenance between Pipeline and Plateau, making that trek through the valley a bit easier.

Flora still enjoys a good fire-hose shower on really hot days if she's near the barn, and they both spend ample time in the mud wallows to ward off the biting insects that are out in force now during the daylight hours.

"Soft rumbles from Flora and clicks from Tange are about as boisterous as it gets some days as far as greetings from the Girls, and who can blame them with the rising summer temperatures," said Caregiver Angela. Middle Tennessee weather is nothing compared to their native Africa, so it affects the two-legged creatures here much more than the four-legged variety. It's no wonder that when giving them a hose shower, the water occasionally fountains up above the Caregiver, spraying them, and the two of them share in the refreshing relief of the cool drops.