May 14, 2012
By: The Elephant Sanctuary
May 14, 2012
This week is a very poignant one, as we look back on the lives of three of our very special elephants who passed on too soon. Bunny, Ned, and Barbara all left us this week in May. Though their absence is felt deeply by everyone whose lives they touched, the joy and the peace they knew during their days wandering the hills of Tennessee fills us all with hope, the hope that many more elephants to come may also, one day, Find Sanctuary.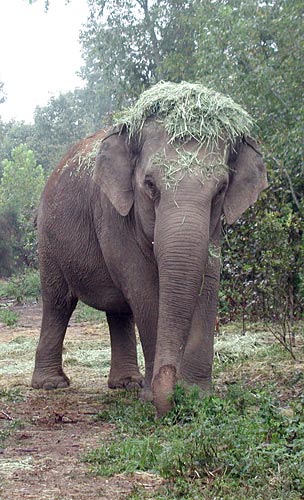 In Memory of Bunny 1952 - May 14, 2009

Before finding sanctuary, Bunny lived at the Mesker Park Zoo in Evansville, Indiana, where she was loved by her community. For more than 40 years, generations of families met and adored her, though she lived a mostly solitary existence, without other elephants, at the zoo. Recognizing the lack of companionship and space in her exhibit, both so important to an elephant's well being, the citizens of the community and the zoo directors elected to retire Bunny to a life of sanctuary, a kind and selfless act from those who loved and cared for her. She was officially retired and arrived at The Elephant Sanctuary in Tennessee on September 29, 1999 as The Sanctuary's fifth resident. Bunny loved being outdoors, with Shirley and Jenny by her side, and she lived her new life to the fullest. Bunny knew ten years of sanctuary, sleeping under the stars, socializing with sister elephants, and exploring the woods and meadows, and was the first of The Sanctuary's elephants to pass away from old age. We miss you, Bunny, though we know you continue to watch over your dear friend Shirley.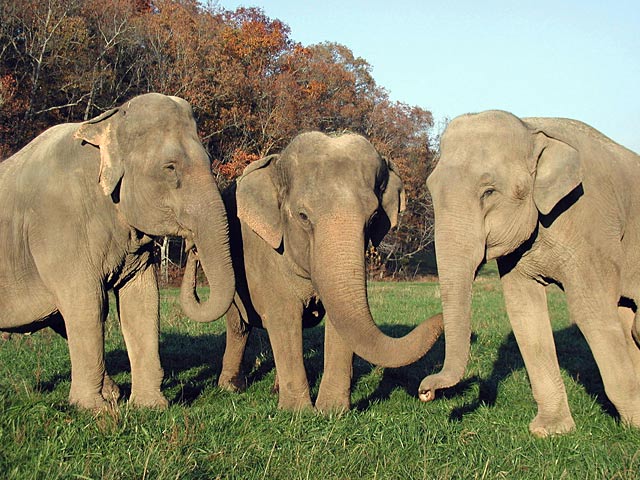 I remember the first time William and I saw Bunny, standing alone in a small concrete stall with only a nearby hippopotamus for a friend. We nearly cried. To think that the Mesker Park Zoo in Evansville had the heart and foresight to send her to us was a miracle. It was Bunny's miracle because when she got here, she loved her freedom so! Thank goodness she got to experience the good life with real elephant friends once again before she died.
~ Lois, Nashville, TN

I grew up going and visiting you every year, Bunny. I would refuse to go anywhere else until I had my Bunny time. I would talk to you and you seemed to listen to me. Even though I looked forward to our visits, it broke my heart to see you in a cage. I told you so one day and reached my hand out to you..you reached your trunk and touched my hand as if acknowledging what I was saying. My heart soared when I knew you would be going to a better place, a place to finally be with your own kind again and to be happy. My heart and prayers went with you and I still think of you often with such fond and loving memories...and remember our moment of understanding. Rest in Peace sweet giant. We all love you and miss you.
~ Amanda, Henderson, Kentucky

Dear Bunny,
Here in Evansville, you made so many people happy! Everybody adored you. From children, to the elderly, and everyone in between! But the sad part is, the zoo didn't have enough space or resources to support you. So that is why they sent you to Tennessee, to give you a better life in your final years. You had great experiences there, from meeting some new friends, to being treated like a princess! But at least now, you are in a better place. Everyone in Evansville, Tennessee, and the whole country will miss you Bunny! R.I.P.
~ Konner, Evansville, IN

To you Bunny - I will miss you so much! I was a docent at the zoo when you were there. I am truly happy that you were blessed with 10 years of glorious freedom to be able to roam in God's country with all of your beautiful friends. Your sweet spirit touched my heart and I will never forget you.
~ Teresa, Evansville, IN

If you have any fond memories of Bunny you'd like to share, please leave a Tribute.