May 3, 2010
By: The Elephant Sanctuary
May 3, 2010
Last Saturday's storms (4/24) had caregivers and elephants alike spending the day soaking wet. Just when it seemed like the sky was clearing, more dark clouds rolled in and another downpour started. Lightning lit up the sky, which cued caregivers to turn off the Ele-Cam to protect the equipment. Debbie, Ronnie, Minnie, and Lottie spent the worst of the storms sheltered in the woods. As the sky seemed to clear, Min and Lot ventured out...but with another flash of lightning, Lottie turned right back around to head into the woods again, as if to say, "Nope! Not going out there yet!"

Since there is no large body of water in Marcella's, Shirley decided a mud bath was in order. When the water trailer was brought out to her, she was already digging around in a damp mud hole. She took a few quick sips from the trailer and began with the spraying. While she doused herself, her caregiver turned on the hose and started hosing down the mud. This led to a half hour of play. Shirley would root up a large wad of dirt and throw it on top of herself, over and over. When she was unable to reach all of the spots, she tried to find a way to wiggle herself down the mud hill to properly coat herself.

First she had to squish her face down in the mud, using her bad back leg to balance herself out. Then she needed to get her sides - one side was easy; she just continued to slide down after finishing that side of her face. But the other side of her body proved to be more of a challenge. It took several attempts before she stuck her back leg deep into the mud, and just tossed herself down. She wiggled and squirmed, squishing her backside from side to side, attempting to thickly coat every surface of her body. A coating of bug spray (all natural) was then added onto her thick orange coating as extra protection against the bugs. An apple and banana later, one more sip of water, and a few flakes of hay off in the grass, and she was all set for the afternoon - a happy and dirty girl!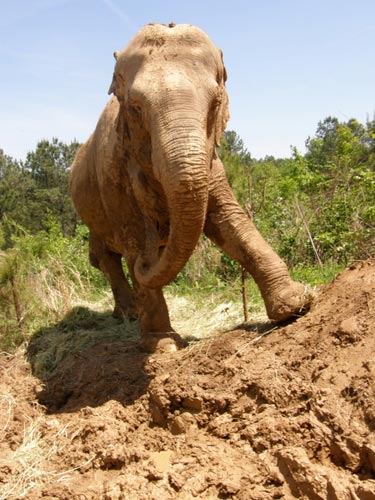 After a week of not really going anywhere fast, Sis and Winks returned back down near the lake. They are at the lushest meadow on this side of the property, next to the creek that feeds into the lake. This time they seem to be following the creek in the other direction, working their way towards one of Tarra's favorite grazing spots, Oak Tree pasture.
Food is very important to the African Girls, and they are good at finding it all year long. This job has been made easier as spring seems to have turned the page on the browse selection. Even though the Girls can knock over large mature trees with such energy, they can also be found lazily and gently plucking grass and savoring each bite.
Here lately, we have found that Flora and Tange have created their own little Utopias, blocked off by knocked-over trees, where they spend some of their nights and also stay whenever storms blow through. These are lil' areas the caregivers cannot get into on the 4-wheelers, usually with a stream or small pond nearby and a variety of hardwood and pine saplings and plenty of weeds and grasses in the area. With patches of sunlight that stream in, they also have trees with shade to protect them from the sun, wind and rain. The Girls' Utopias are valley-like with very different flowers and ferns on the edges, and they seem to have a very different temperature than the surrounding woods.
We Remember:
A very happy anniversary to Dulary, who arrived 3 years ago on May 1.
After the Storm:
This week we continue to clean up debris and fill in large holes caused by the flash flooding here at the Sanctuary. Visit this link
http://www.elephants.com/newsStory.php?newsID=1249
for more information.