October 10, 2014
By: The Elephant Sanctuary
October 10, 2014
Fall Comes to Sanctuary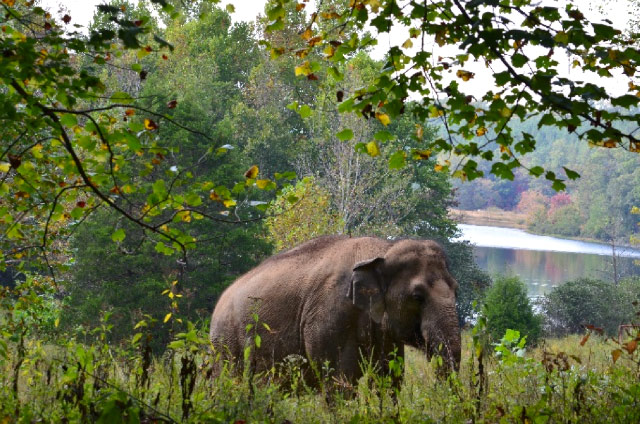 Tarra at the Lake
As we approach the harvest season, the Tennessee foliage is beginning to turn, and with temperatures still somewhat moderate, our 13 resident elephants continue taking advantage of the wider sanctuary. Meanwhile, Care staff have been making preparations for colder weather, with a newly-expanded enrichment program at Sanctuary, thanks to a recent workshop by one of the world's leading experts on enrichment for captive wildlife, Valarie Hare, at The Shape of Enrichment.
For "environmental enrichment," care staff plan inventive ways to make the natural-habitat more dynamic and engaging. For example, a boomer-ball is filled with hay; Sissy and Winkie then get to problem-solve on how they might access the hay—which has added benefit for Sissy, who arrived at Sanctuary in 2000 with a partially-paralyzed trunk. Hay-retrieval from the ball is good exercise for elephants, and a good way for Sissy to practice using her trunk in a more natural way.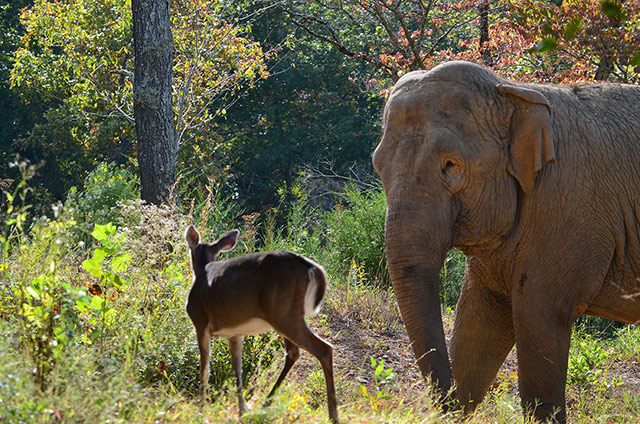 Misty's Ongoing Adventure
From Caregiver Nicole-
"On a Sunday afternoon hay-drop in the habitat for Misty, a deer strolled out of the woods and proceeded to watch me. A few minutes later, she walked right up to the ATV to see if I had any food in my cargo. Then, she wandered across the field over to Misty to check out her dinner. Misty wasn't keen on sharing, so she swung her trunk out at the deer and that was the end of that!"
Flora and Tange Weigh In
In September, Tange and Flora each had a turn on the on scale in the Africa Barn. Monitoring elephants' weight is a part of ongoing care, as sudden weight gain or loss can be indicators for other health issues that may not be as apparent. Tange and Flora appear to be as healthy as ever, with Tange weighing in at 8,580 pounds, while Flora weighs 9,330 pounds—a little surprising, given Tange "looks" bigger than her younger companion, Flora. Perhaps Flora just has heavier muscle-mass than Tange.

Mature male (bull) African elephants can weigh as much as 15,000 pounds, while females (cows) like Tange and Flora are usually in the 8,000-to-11,000-pound range.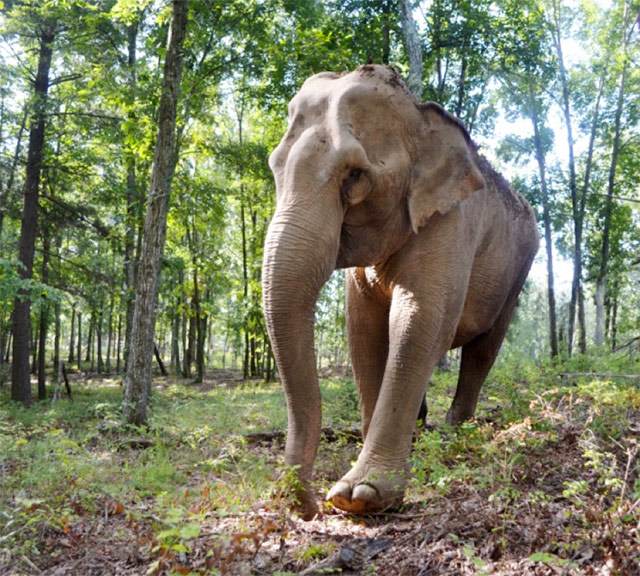 Frieda in the Woods
From Caregiver Briana -
"Frieda goes exploring every morning, while Billie waits patiently for Frieda to return for breakfast. Recently, Frieda was spotted sliding down a steep cliff while en route to breakfast; she was nearly folded in half, sliding on her front legs with her back legs tucked under! She's been spotted doing this before, and opted for the slide-route over an easily-walked path. But then again, Frieda's known for taking the road less traveled. When she and Billie reconvene, it's a mini-reunion—complete with trumpets and 'whale noises,' followed by a tandem walk to their barn for breakfast, where Liz is usually there waiting on them. Liz squeaks and clucks as they all greet one another."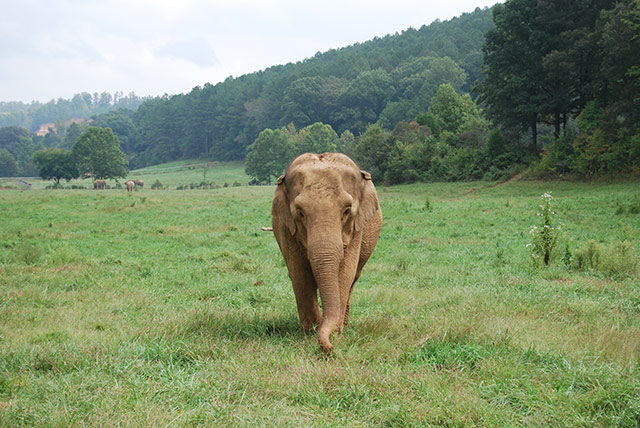 Finally, this week we remember elephant "Lottie," who passed away suddenly on Oct. 10, 2010. She became the sixteenth resident of The Elephant Sanctuary arriving with her best friend, Minnie. After USDA prosecuted the Hawthorn Corporation for violations of the Animal Welfare Act, in January 2006 she was the second of eight circus elephants to make the trip to Tennessee.