October 20, 2012
By: The Elephant Sanctuary
October 20, 2012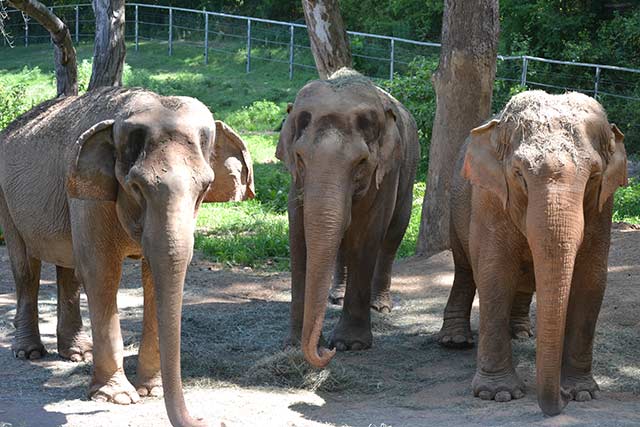 Liz, Frieda, & Billie pose for a group shot
Fall is in full swing here in Tennessee and after a long hot summer the cool weather is a welcome respite for all of us at The Elephant Sanctuary, Caregivers and elephants alike! The Girls seem to feel rejuvenated by the crisp Fall air. Early mornings at the Q barn are filled with the sounds of Billie, Frieda, and Liz, greeting each other with trumpets, squeaks, clicks, and Frieda's famous "whale song" that is so unique to her. The other day Caregiver Kelly was riding a 4-wheeler along the outside of one of the fence lines when the threesome decided to join in. Kelly recounts their excitement, "all three of them came running alongside the fence with the 4-wheeler, making their cute, silly noises!"'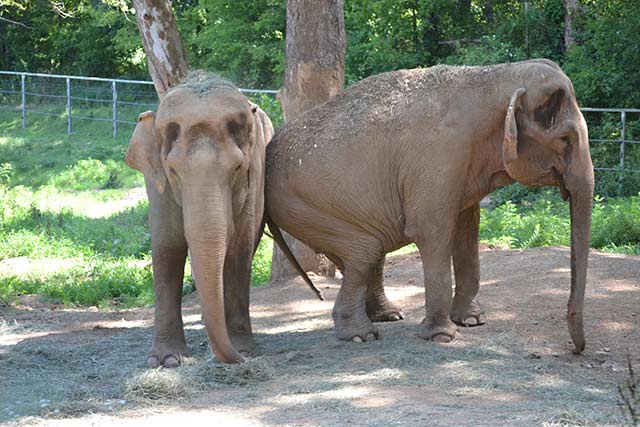 Frieda and Liz enjoying a silly moment
Debbie, Ronnie, and Minnie have also been enjoying the cooler weather, and it has not stopped them from spending most of their time away from the barns. Each morning, when Caregivers arrive at the barn, all the stalls are empty. The Girls can be found far out in the habitat, peacefully grazing, or starting the day with some social interaction with one another. According to Caregiver Kelly, "It is extremely gratifying to watch them taking full advantage of all The Sanctuary has to offer, enjoying being elephants and spending time with their sisters."
Recently, the Girls at Africa were the recipients of a new enrichment "toy" …. an elephant-sized brush donated by Progressive Wastes Solutions division in New Orleans.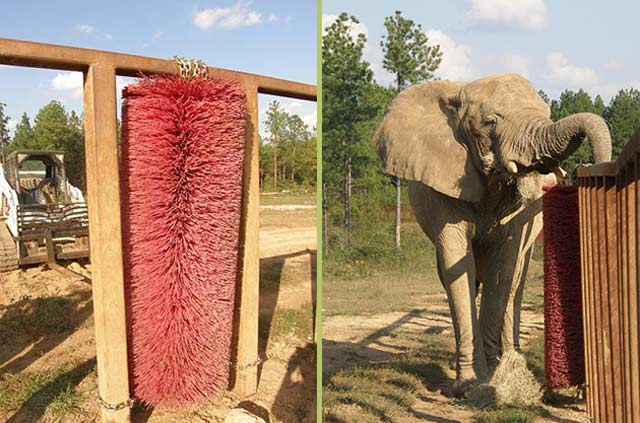 It took a while for the Facilities Staff to get the street sweeper brush hooked up,
but once in place, Flora quickly came over to investigate.
It was no easy feat for our facilities crew to install the giant brush, so heavy it needed to be lifted into place with a Bobcat and then suspended with 50 feet of grade 9 logging chain - but they did it! Once hung along the fence line in the African habitat, it took no time at all for Tange and Flora to come in for an investigation. According to Caregivers, Flora inspected it first, pulling and tugging, tusking and kicking it. She shoved on it with her head and used it to scratch herself all over.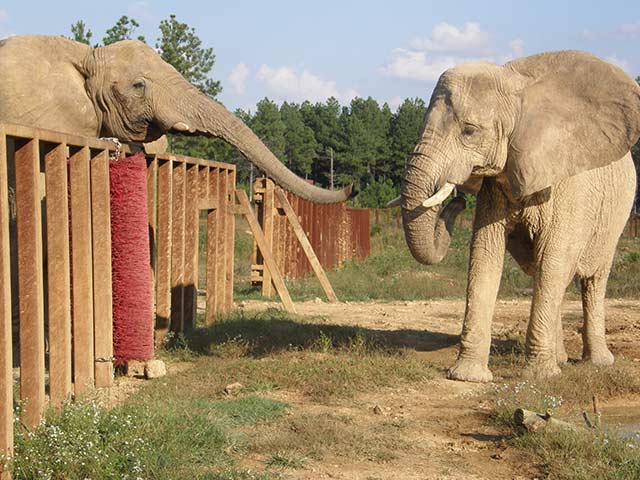 Flora and Tange — Flora holds off Tange while she gets the first turn with the new "toy"
Once Flora satisfied her initial curiosity, it was time for her to take a break and Tange moved in to check it out. Apparently, Tange thoroughly enjoyed spinning and scratching on it. She seemed to prefer backing up to it and then alternated between scratching her back legs with the giant brush and kicking it! The brush continues to get a lot of attention from the African Girls, whose playfulness was recently captured by our Elecams and was made into an Elecam Encounter on The Sanctuary's YouTube channel. Thanks to the Elecam Encounter – rest of the Girls have just received a donation - two additional brushes, secured by one of our loyal supporters so keep watch and hopefully we can catch the Asia and Q girls enjoying their new brushes as well.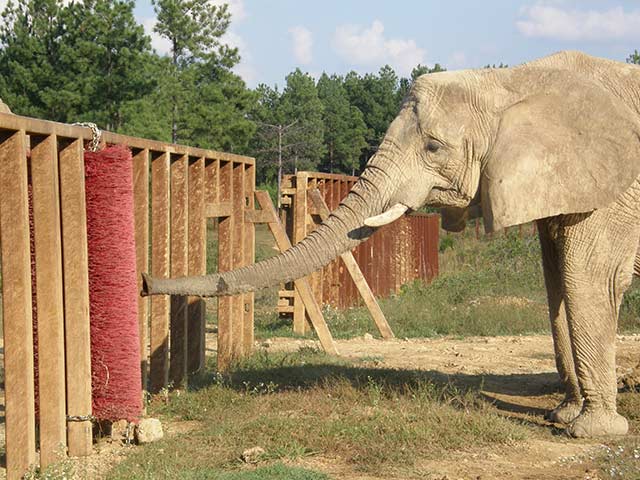 Tange is careful at first, but then jumps right in on the fun.

Check out the video below of Tange and Flora with their new toy.