October 26, 2012
By: The Elephant Sanctuary
October 26, 2012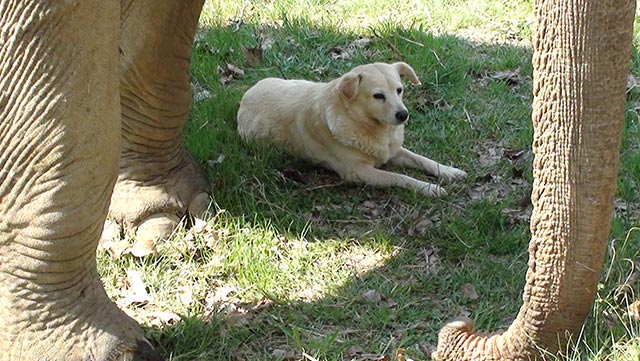 One year ago today The Elephant Sanctuary suffered a great loss to our family. For one so small, Bella was truly a giant among elephants. The white stray dog, who wandered onto The Sanctuary and into the heart of our founding elephant Tarra, had a fierce devotion to Tarra that made us humans love her all the more. The two shared a connection unlike any we humans had ever seen before. Just as The Sanctuary staff cared for Tarra and Bella, so too, did Tarra and Bella care for each. Tarra shared her stall for Bella's home, shared her hay for Bella's bed, and shared her shadow for Bella's shade.

Members of The Sanctuary family, from our Caregivers to admin staff to our supporters around the world, all feel a sense of connection with one another and with each and every one of our Girls. When they are joyous, we share in their joy, and when they hurt – we share in their grief. Upon the loss of Bella, one caregiver recounted her own personal feelings, her sense of both loss and gratefulness and what it meant to her, personally, to have Tarra carry Bella's body back to the barn.

"Something that I cannot get over is the feeling that Tarra knew that we needed to see Bella's body. She seemed to know we needed to hold her one last time - to say goodbye. And, in her trunk, she carried her body back to the barn, for us to find….I cannot imagine how that was for her, to bring her dead dog back for her humans. I am forever indebted to Tarra for letting me say goodbye. For letting me hold her one last time. For letting me say goodbye to a being I loved. It was a selfless act, it was an incredible act. I cry every time I think of it….It is heartbreaking, but it is beautiful. I feel she did that for us Caregivers, but she did that for you too. She did that for the millions of people around the world who found strength in their story, in their love, who deserved to know what happened, to not always wonder. And for that, I will always, always be thankful. Even in death, their relationship is an inspiration."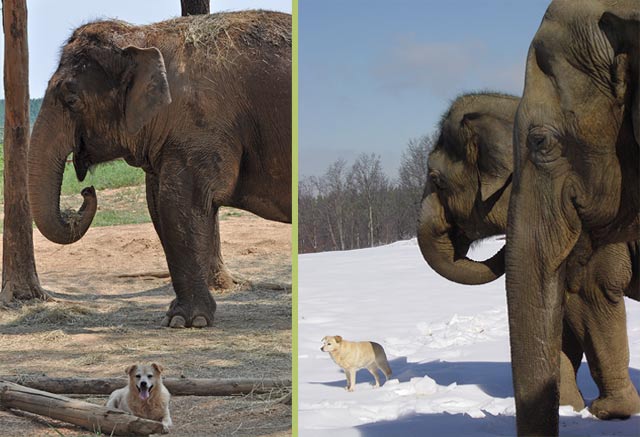 Over the last 17 years, since the founding of The Elephant Sanctuary, we as a family have watched Tarra grow from the carefree innocence of her youthful exuberance into a slightly older and ever more thoughtful elephant; an elephant who has known a great and deep friendship and is now wiser for having known it.

Caregiver Laurie provided an update on Tarra today: "Tarra was in close company with Shirley this morning. When I found them they were inches away from each other, it made me wonder if they had literally been leaning on one another until they heard me approaching. Tarra is somber this morning and has extra tear tracks. It is controversial whether or not elephants "cry;" from what I've witnessed in Tarra and other elephants going through sad or otherwise stressful situations, I do think that sometimes they shed emotional tears. Tarra and Shirley are on North Road right now which is in the vicinity of Marcella's, Bella's resting place."

We cannot explain exactly how Bella died or why Tarra carried her body back to the barn, but we also cannot explain why a small white stray dog wandered into sanctuary and chose to bond with a large, grey elephant. What we do know is that this special friendship happened, it happened here – at The Elephant Sanctuary in Tennessee – and we are all the wiser and richer for having witnessed it.
To post a tribute to Bella, CLICK HERE.