October 26, 2013
By: The Elephant Sanctuary
October 26, 2013
Colder weather has descended on The Sanctuary. As we alluded to in the last EleNote, changes in weather means changes in elephant behavior. Of course this means different things for different elephants, as you'll see below.

At Asia:
Caregiver Nicole shares that "Sissy and Winkie have been venturing closer to the barn with the colder weather rolling in. They've been spending some nights in the barn and then wander out into the habitat during the days while the sun is shining. Tarra has come back a few times as well, splitting her time between Sissy/Winkie and Misty/Dulary, being her typical social butterfly self."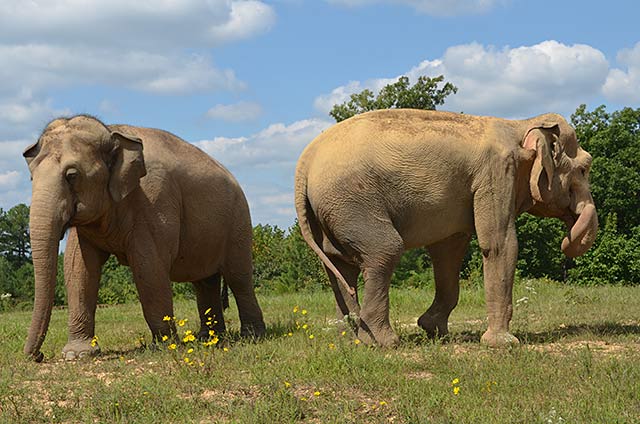 Tarra and Dulary enjoy the last of the warm weather.
Caregiver Peter tells us that "as it's gotten colder, most of the elephants have moved closer to the barn and are coming in for at least part of the night. Shirley is still out around Marcella's though, and shows no sign of wanting to move." Shirley's past history leads us to believe that will be the last to return the Barn. The elephants can come and go as they please from the heated Barns, staff only coaxing them to come in when the weather will be frigid for an extended period.

At Africa: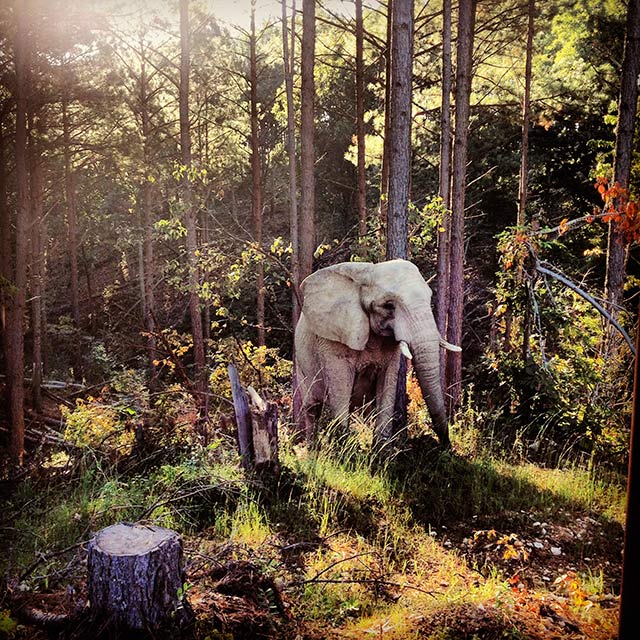 Tange greets the day.
"Even though it's colder, the Africans haven't been in the barn much," explains Caregiver Peter. "They were in early this week on one or two of the days, but even then it's only for a few hours each night. They've been hanging out at the pipeline some." Perhaps Flora and Tange are trying to squeeze in as much time in the warm sun as they can during these shortening days and chilling nights.

At Q:
According to Caregiver Brianna, the cold weather seems to be having the opposite effect on the other side of the property. "The cold weather doesn't seem to be affecting the Q girls much! Deb and Ron can still be found on their favorite hilltop in the morning, and we have found Frieda and Billie as far away as Frieda's Field when we have our morning staff check-in. Just this morning, all the caregivers were bundled up in our hoodies and hats and gloves – meanwhile Frieda, Liz, Debbie, Ronnie, and Minnie are grazing in the farthest reaches of their habitat, seemingly content (and Billie is munching on trees in the woods, as usual)."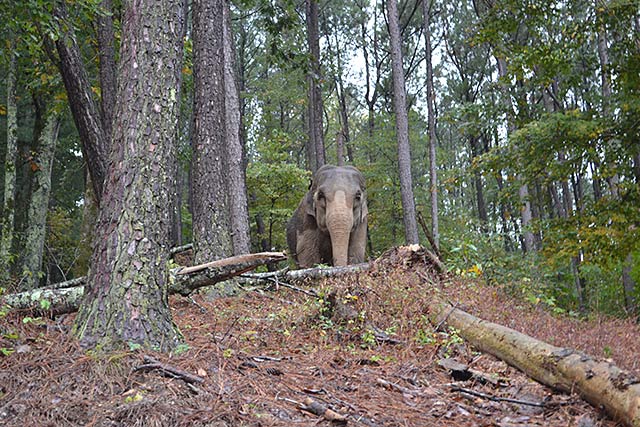 Billie, Queen of the Mountain
In Remembrance
It has been two years since we said goodbye to the little white stray dog that befriended an elephant and was half of a remarkable friendship that continues to inspire joy all over the world. It is impossible to hear the story of the relationship between Tarra and Bella and not be moved. Even though Bella is gone, she continues to inspire through her example of loyalty and devotion to her best friend, Tarra. Below are some of the comments shared on Bella's tribute page: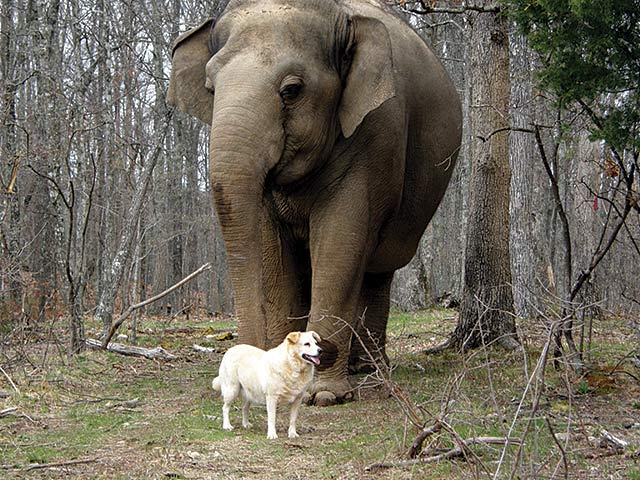 Tarra and Bella
"We, as a species, can learn so much from these true friends."
~Patricia, Toronto, Ontario

"Our 3rd grade class just watched the Tarra and Bella video, and we were reminded to appreciate each other's differences. We love Bella and Tarra. We wish that Bella was still there to play with Tarra. We are sorry Bella passed away. We love Bella because she was a good dog and a great friend."
~Mrs. Seymore's 3rd Grade Class, Rockwall, TX.

"I just found out about this amazing friendship. I'm crying because I love Bella."
~Svetlana, Russia

"Run free, little one…and know you are loved."
~Jamie D, Laguna Hills, CA

Tarra continues to grow in her relationships with the other elephants. While no one can ever replace Bella, we believe that Tarra has become closer to the other Girls. She is a very social elephant, and all of the others seem excited when she comes calling.

If you would like to add a tribute to Bella's page, you can do so here.