January 21, 2016
By: The Elephant Sanctuary
Sunny Days in the Africa Habitat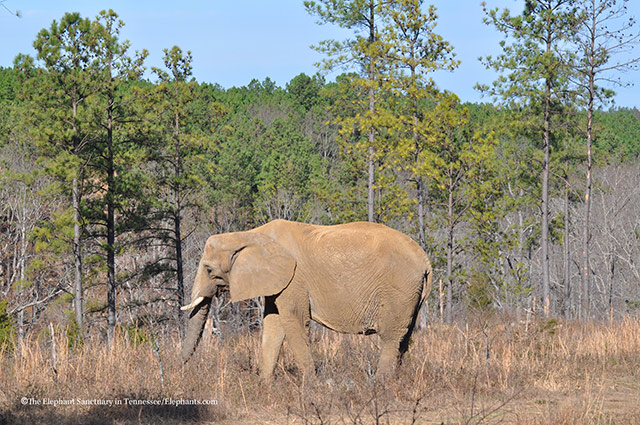 Tange strolls through the Africa Habitat.
While winter has definitely arrived at The Sanctuary after a very pleasant and mild December, the sunshine encourages the African elephants to stretch their legs and explore. Tange, Flora, Hadari, Rosie and Sukari have all been on the move during warmer days. Africa Caregivers report that Hadari has been traversing the valleys of the South Yard section of the habitat, alternating between the lower wooded areas and the clearer ridgelines. Now in her fifth month at The Sanctuary, Hadari seems to be settling in a little more each day. You can see video of Hadari's first day in The Sanctuary here.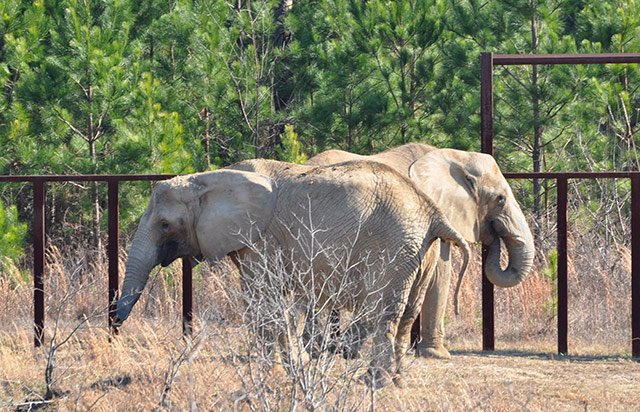 Rosie (L) and Sukari
Sukari and Rosie have also been spotted on the EleCams soaking up the sun in the Africa Habitat. Both seem to enjoy stripping bark from the branches and logs provided to them, and they are often observed dusting and digging in the sand pile that is part of their section of the Habitat. You can see these interactions here.

The elephants have been introduced to Protected Contact management at The Sanctuary and, to no one's surprise, they are quick learners! Rosie in particular is jumping right in. She is already voluntarily letting Care and Vet Staff do preventive foot care treatments. As previously noted, Rosie (age 44) has lingering issues with her feet and mobility problems stemming from her not having full use of her right front leg. During Rosie's time at the Nashville Zoo, keepers and vet staff documented these issues and that Rosie would sometimes lose her balance and have to be assisted to her feet. Rosie's lack of mobility and history of falling down is something that The Sanctuary Staff is prepared for, and planning and equipment is in place to assist her.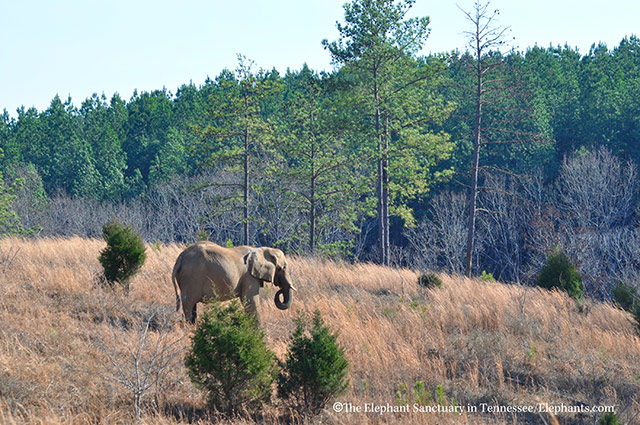 Hadari
You can order your new Hadari, Rosie, or Sukari T-Shirts here.
An Update on Billie
As shared in a previous EleNote, Billie has been periodically showing signs of discomfort. She has been spending her time in the Quarantine Phase I barn and adjoining habitat where she can be closely monitored by Care and Veterinary Staff. She is being treated with medication to help with her comfort level, and she is still participating in regular play-dates with Ronnie. While Ronnie shares the Phase II Barn and Habitat with Minnie and Debbie, she can have access to the corridor that leads to Phase I and Billie. Recently, Billie and Ronnie were spotted sharing hay…which is a big step for Billie! Billie has been spotted grazing and traversing about in the Phase I Habitat, indicators that she may be feeling better. Life as a circus elephant and her retirement to The Sanctuary is the subject of Last Chain on Billie: How One Elephant Escaped the Big Top. Billie came to The Sanctuary fearful of humans and even the other elephants with whom she shared her habitat. After five years of retirement and building patience and trust in Caregivers and The Sanctuary's Protected Contact management system, learning that nothing bad would happen to her and it was her choice to participate in training or not, Billie allowed her ankle chain to be removed, the last symbol of her pre-Sanctuary life. Sanctuary Staff will continue to monitor Billie and provide care, and will keep The Sanctuary community updated.
Billie has recently been viewed lying down on the sand-pile in the Phase 1 Barn…a first for her! The other elephants are all regularly seen lying down to rest and nap, but not Billie. Care Staff are pleased with this, recognizing that Billie is taking advantage of the Barn amenities to make herself more comfortable. At 54, Billie has arthritis and other joint conditions common in aging captive elephants. Sanctuary Staff are working to make sure that Billie gets the most out of her retirement every single day.

Order your copy of Last Chain on Billie here.





In Memory of Zula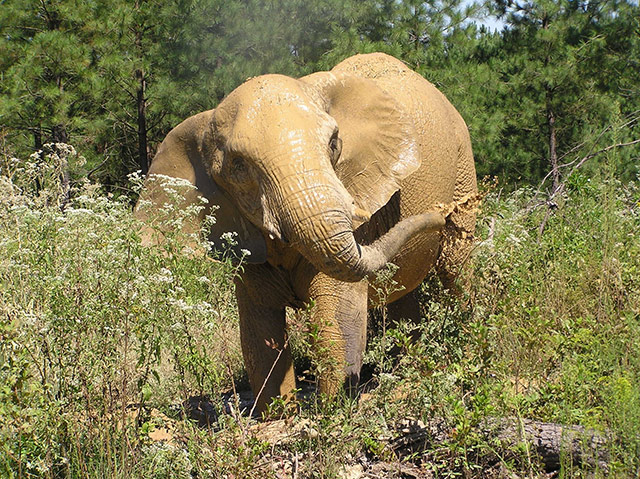 Zula
Amidst the current excitement in our African Habitat – the recent arrival of three new elephants and the beginning of a habitat expansion project – we pause to remember Zula. In 2004, Zula and Tange became the first African elephants to enter retirement at The Elephant Sanctuary in a new 300-acre African Habitat that was created specifically for their species and their needs.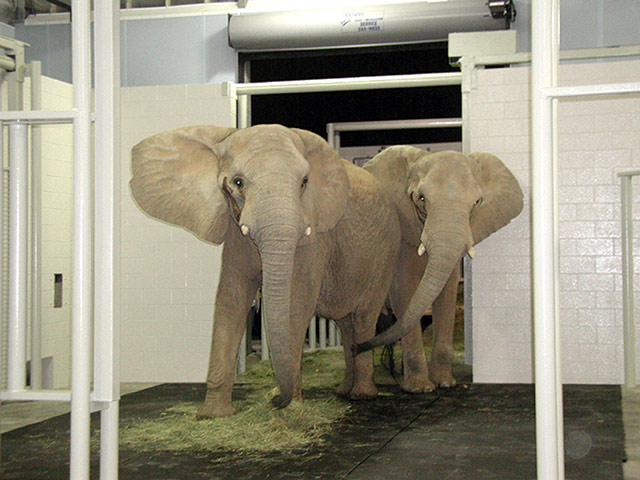 Tange (L) and Zula's 2004 arrival
Zula and Tange came to The Sanctuary after spending 26 years at the Chehaw Wild Animal Park in Albany, GA and were joined a few weeks later by Flora. Zula had the opportunity to experience five years of life at The Sanctuary. On January 11th we observed the 7th anniversary of Zula's passing. The Sanctuary's African herd now consists of Tange, Flora, Hadari, Sukari, and Rosie. You can read tributes to Zula here.