March 12, 2014
By: The Elephant Sanctuary
March 12, 2014
Excitement at Q!
Caregiver Diana was working near the Q-Barn recently, when she heard a commotion coming from inside…she can tell the story herself!
"I heard all this banging around and squeaking, so I decided to check it out. I peeked in quietly and saw Billie kicking around one of the boomer balls! She kept bouncing it off of the metal gate in the barn, which would explain the noise I heard from outside. She was just hanging out, playing with her ball. I called over the other caregivers, but in true Billie fashion she stopped as soon as she saw us watching. I felt very lucky to witness one of her rare uninhibited moments."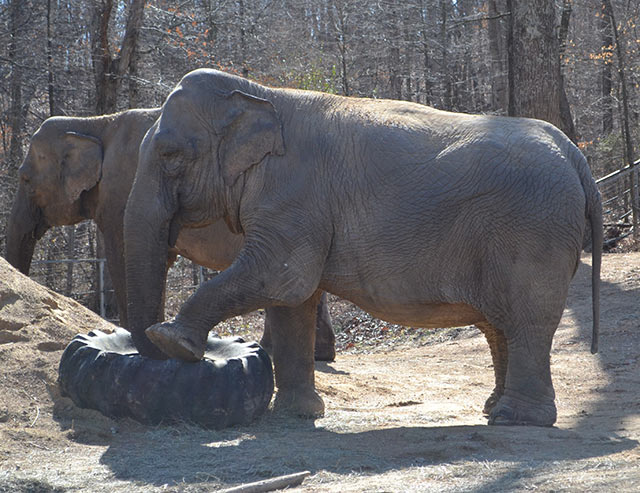 Billie checks out a new tire while Frieda watches.
And, as if that weren't enough, Debbie and Ronnie took their first swim of 2014 towards the end of February. Much like the people who read these EleNotes, these Girls were probably relishing the warm sun signaling that Winter's end will soon arrive.


Debbie splashed around for a bit, then chose a very steep bank to make her exit.

Saturday, March 15th at The Welcome Center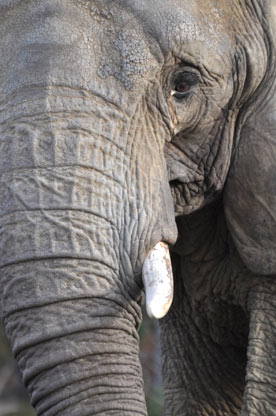 Flora
"African Elephants in Sanctuary" is the topic of this Saturday's presentation at The Welcome Center in Downtown Hohenwald. The stories of Tange and Flora's arrival at The Sanctuary and the decade that has since passed will be front and center. We'll have family friendly activities from 11 AM to 4 PM, and a presentation from TES Staff at 2:30.

Our EleCams recorded a recent playful "sparring match" between Tange and Flora, you can watch it here.

Remembering Delhi

We said goodbye to Delhi on March 11, 2008. After being captured from the wild in India, Delhi spent 57 years as a circus elephant and, eventually, a member of the Hawthorn Corporation herd. It was the subsequent USDA investigation of alleged mistreatment of Delhi that started the chain of events that resulted in eleven of the Hawthorn herd retiring to The Sanctuary. Delhi was the first to arrive, having been confiscated by the USDA, the first such confiscation in U.S. history. Delhi was a pioneer of sorts, and her legacy continues to shape The Sanctuary.