November 1, 2013
By: The Elephant Sanctuary
November 1, 2013
Weigh in at Q!!!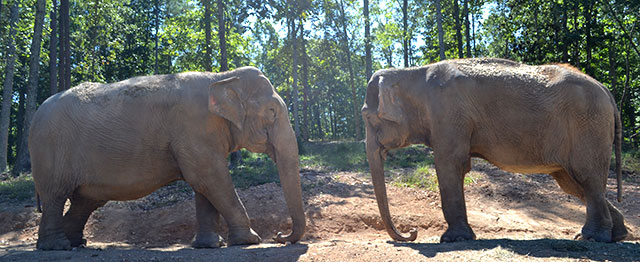 Billie and Liz
Our Maintenance team completed some repairs to the scale in the Phase I Barn in the Q Habitat recently…just in time for a weigh-in!

Billie remains the Phase I trio's heaviest elephant at 8,800 lbs. At her last weigh-in, Billie tipped the scales at 9,000 lbs. You may have noticed the legendary "Billie Belly" in some of her photos. Our staff decided that it was in the best interest for her health to put Billie on a new diet (birthday treats notwithstanding), and it seems to be working.

Frieda, on the other hand, has gained quite a bit, much to our delight. She is up to 7,100 lbs now.

Liz is still holding strong at 6,500 lbs. Liz's weight has been of special concern to us as she arrived at The Sanctuary at a very thin 6,000 lbs. Given Liz's history, 6500 is great!

Monitoring the Girls' weight is an important part of their overall care. The average weight for an adult female Asian elephant is around 7,700 lbs.

Look in on the Girls whenever you'd like via our EleCams.